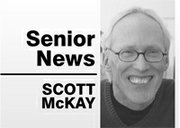 How many times do you hear of new products or research findings that will help you live longer? Take this pill or that, eat less fat and more fiber, hit the gym, and lift those weights, etc. But many folks ignore these reports because they believe when their time is up, there ain't nothing you can do about it. So why change old habits? Que Sera, Sera, whatever will be, will be.
But in many ways the focus on living longer is not really the point. More importantly, the reason you should consider eating better, moving and stretching more, and exploring new possibilities, is to enjoy the years you have left — no matter how many there are. Like the old adage says: "It's not to add years to your life, but to enjoy the life in your years."
These latter years are not a mere holding pattern — riding an antique Piper Cub going nowhere as it circles for its last and final landing. They are a time to play with the grandchildren, write your life history, learn to use a smartphone, or even meet a new love and dance the night away. So consider what you can do to stay as healthy and active as possible.
With the Uplifting Elevator fundraising campaign in full swing, I was asked what happened to the donations made during the previous fundraising campaign in 2008 to build the more expansive addition. I can report that all of those donations, totaling nearly $35,000, have been saved. And with the approximately $10,000 raised in the new campaign, we are almost halfway to the $100,000 needed for the local match requested by foundations to show community support for the project. Thanks to everyone who has contributed over the years to help make it possible to install an elevator at the Mid-Columbia Senior Center.
As I promised, the center's music announcement is straight with no chaser. On Tuesday April 15, Truman will be playing his Country Gold, Silver and Bronze. The doors open at 6 p.m. with music starting at 7 and you can be in your car with your gal leaving for the drive-in by 9. Open to everyone and donations are always appreciated.
The comedian who was a child actor, a radio show regular during the 30's and 40's, and known as Mr. Television was (Uncle Miltie) Milton Berle. (And the winner of a Cherry Festival Breakfast is Evelyn Uhalde.)

Okay, this may be another easy one, but it's timely: What was the name of the automobile, first of its kind introduced 50 years ago in April of 1964, that was affordable (base price $2368), and compact with a sporty image? E-mail your answer to mcseniorcenter@gmail.com, call 541-296-4788 or send it with the James Bond movie Goldfinger in which the car appeared.
Well, it has been another week trying to make heads or tails of the ups and downs of life. Until we meet again, keep searching for the new and novel, while savoring the old and reliable. "There is only one alternative to getting older, so suck it up." Whoopi Goldberg
Menu
Wednesday (9) Lemon Pepper White Fish
Thursday (10) Turkey and Gravy
Friday (11) Chicken Piccata
Monday (14) Stew
Tuesday (15) BIRTHDAY DINNER Chicken Parmesan