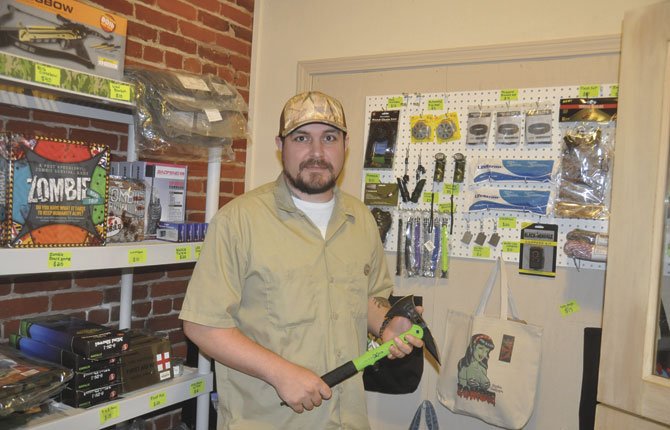 Next to the entrance at Columbia Gorge Apocalypse is a poster explaining the steps required to survive the zombie apocalypse.
"I figure I'll get them in the door with the zombie stuff," said store owner Mike Couch, a longtime fan of zombie collectibles.
Inside the new store, visitors will find more than zombie kitsch. They'll also find serious survival gear.
"Nobody really believes there's going to be a zombie apocalypse," Couch said. "It's more a metaphor for different scenarios."
Even the Centers for Disease Control have used the idea of a zombie apocalypse as an entertaining way to encourage people to prepare for the disasters that extreme weather and other catastrophes can visit to doorsteps, no matter where a person lived.
"Besides," Couch says with a smile. "It'd be boring if I didn't have the zombie angle."
Folks looking for zombie collectibles will find a range of items from T-shirts and lunch boxes to playing cards and lapel buttons, even a board game.
On the more serious side, Couch's merchandise includes an aptly named M48 Apocalypse tomahawk, crossbows, survival knives, water purifiers, first aid and emergency food kits, tarps, camouflage toilet paper and even gas masks.
Among the popular items are heritage seeds, which allow growers to collect and save seeds for growing year to year. Many of the modern seeds are hybrids, which often won't grow from a second generation of seeds.
If customers are looking for something else, Couch also has a catalog from which to order.
Couch also offers a lending library of survival and preparedness books that customers can check out for 10-day7 periods.
Columbia Gorge Apocalypse is open Monday through Saturday, from 10 a.m. to 5 or 5:30 p.m. at 406 E. Second St., Suite 1, or call Couch at 541-705-7755.