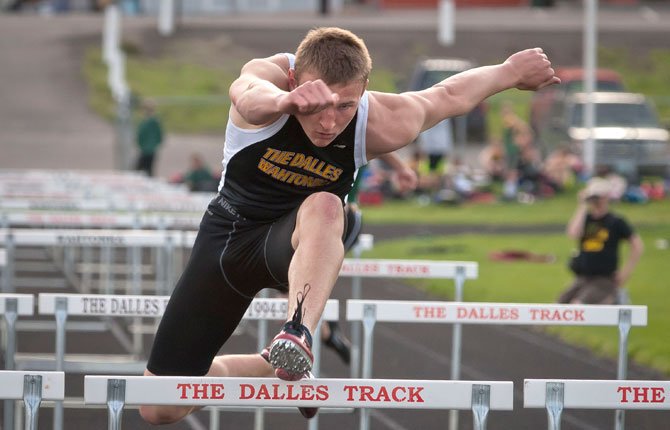 As the grey skies give way to powder blue and the temperatures rise, The Dalles track and field team appears to be hitting its stride with more personal bests and countless gold medals, as 32 first-place finishes highlighted a warm day at Sid White Field for a Columbia River Conference clash with Pendleton.
Several of the top names and former state qualifiers were in action for the team's fifth event of the young spring season.
Added to that, a handful of underclassmen have opened the eyes of their veteran coach.
"We had quite a few PRs today. The kids competed well," said coach Garth Miller. "We are halfway through the season and we are just pleased with where they are right now. The kids are making great progress and they are stepping up."
Former state placer, Lio Tunai, added another top prize to his arsenal in the shotput with a toss of 49-11, and another state participant, Zach Nerdin rallied for first place in the 110-meter hurdles where he crossed the tape in 16.32 seconds.
The 4x400-meter relay team of Mark Dunagan, Nerdin, Elijah Kohltfarber and Mark Johnson tapped out in first place in three minutes and 55.27 seconds.
In the 4x100 relay, Javier Martinez, Orion Smith, Sant Strassheim and Blake Diede, posted 47.16, moving them to the top of the heap.
Luke McClean motored home at 3,000 meters in a time of 10:41.85 to grab top placing in the 3000, Peter Jubitz claimed first in the 300-meter hurdles in 46.60, and Elijah Kohltfarber dominated the 1,500-meters where he nearly set his personal record with a reading of 4:35.98.
Kohltfarber kicked it into high gear for his attempt at 800-meters, adding a 2:14.94 to his slate for first, Joey Duong was best on this day in the discus with a top toss of 120-04, and senior David Esquivias made easy work of his competitors with a throw of 129-09 for first place in the javelin.
Nerdin had a height of 6-feet in the high jump for gold, Strassheim was the best athlete in the long jump with a distance of 20-08, and Mark Johnson hit the 11-foot mark in the pole vault to run away with first place.
Although he is still working through an early-season injury, Diede, a senior, is feeling pretty good about the prospects of the Tribe adding more names to state list.
"We have a solid group of seniors and some young guys who are really doing well," Diede said. "I am excited. This team is working harder and harder and it is making everyone better. I think we are ready to peak at the right time."
As good as the boys fared versus tough competition, the girls stood up to the challenge, as Maddie Wood, Katie Conklin, Emily Bailey, Katie Burns, Hannah Schechtel, Rose Stephens, Sally Fanene, Kayla Seibel and Yasmin Hill were on the top rung of the track and field ladder Tuesday.
In addition, the 4x100-meter relay team of Kellina Coy, Hill, Monique Mendiola and freshman standout Peyton Wojtecki worked a split of 56.63 to grab first place.
Wojtecki was not done there, however, as she joined forces with Bailey, Burns and Caela Dunagan in the 4x400-meter relay race for first place at 4:54.33.
Individually, Wojtecki proved to be just as dangerous in the 100-meters, where she set a personal record of 14.50 to finish in a first-place deadlock with Conklin.
Hill made three trips to the winner's circle on the day, all with personal records in the 200 (29.27), long jump (16-07) and pole vault (9-0).
Seibel secured first place in the triple jump with a leap of 29-06.5, Bailey scored a 1:01.46 for tops in the 400, and Burns scorched the field in the 800-meters with her reading of 2:49.53.
In her first try of the season at 1,500-meters, Wood hit the ground in championship form Tuesday with a personal record of 5:34.20 for first place.
Both Wood and Conklin shared in the glory after several attempts in the high jump with each going out on top with a height of 4-10.
Wood entered the top time in the 3,000-meters with a time of 12:05.08, Conklin won the 110-meter hurdles for 17.22 and Burns claimed first in the 300-meter hurdles at 53.92.
Stephens came close to a record in the javelin with a distance of 83-06, Schechtel breezed to a 105-09 for first in the discus and Fanene shattered her personal record in the shotput where she hit the dirt in 31-04.
Emily Morin, a sophomore, finished second in the 1,500-meters in a time of 5:36.72.
With pretty much all of the team members from this fall's state-qualifying girls cross country squad on the roster, Morin is looking to continuity and camaraderie as some of the bullet points to the girl's success down the road. "We cheer for each other and we want each other to improve every time," Morin said. "I think when you have a team that roots for each other, it makes it easier to go out and compete. We all make each other better."
TD prepares for another stiff test at 4 p.m. on Friday, April 18 for the 26th annual Wilson Invitational.