Editor's note: Today's candidate article begins a series on local, state and national races leading up to the May 20 primary election. Ballots will be in mailboxes shortly after May 1.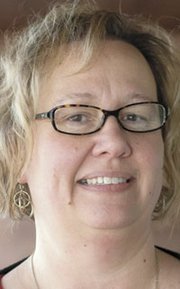 Wasco County Commissioner Position 1 candidate Nora Ferguson said she's a team player and collaborator who focuses on relationship-building and getting things done.
She faces first-term incumbent Scott Hege in the May 20 primary election. The winner will be the sole candidate in the November general election.
Ferguson said she was first approached about a year and a half ago about running for commissioner, and has had more people approach her since then.
"I want to be actively involved in our local government," she said. "I have seen how government impacts the lives of people and I really have a desire to serve the people of my community and be involved. Kind of like the quote from Ronald Reagan: We can't help everyone but everyone can help someone."
Ferguson, an Ohio native, has lived in the gorge since 1990 and has been in The Dalles for 10 years. She is secretary of the North Wasco County School District's North Wasco Virtual Academy program. She has five children, three of whom are still at home.
Ferguson studied business and education at Wilmington College in Ohio and Brigham Young University in Utah. She's owned her own business and has sat on numerous local boards.
She's been involved in Little League, Boy Scouts and was PTA president. She served as union president of the North Wasco Educational Support Professionals union, and sat on The Dalles Middle School site council.
She's helped facilitate many volunteer activities, she said, including arranging for the mobile dental clinic, the "Tooth Taxi," to come to The Dalles.
She's a member of the Oregon Education Association and the National Education Association.
She previously worked in human resources for the school district and is a past member of the Society of Human Resources Managers.
Ferguson's husband, Paul, is interim IT director for Wasco County, and she contacted the state ethics commission and said she learned it would not be a conflict of interest for her to serve as county commissioner.
"The only time there's a conflict of interest is when I would gain financially from a decision being made. And I am not his direct supervisor," she said.
Ron Bersin, executive director of the Oregon Government Ethics Commission, confirmed that her serving as commissioner is not a conflict itself. She could even vote for him to get a raise as long as his raise was part of a class of employees who are all getting the same pay increase, according to Bersin.
She filed for office on the last day filing was open, and selected Position 1 because two other challengers had already filed for the other open seat.
Ferguson said she enjoys research and is working to familiarize herself with issues facing the county, such as land use and roads.
"What's the saying — you don't have to know everything, you just have to know where to find it? I'm really good at that," she said.
It's also her nature to seek all sides of an issue, she said.
Getting people to talk to her just comes naturally. "I'm one of those people who everybody likes to talk to, and I love to talk," she said.
The position of county commissioner is a paid, technically part-time position, but the pay is $38,569, and that is a sizeable income, Ferguson said.
"I really feel being a commissioner takes a serious time commitment and I think that it also would be my responsibility to build relationships with departments and unions and other partnerships — people — I'm good at that. I'm good at building relationships.
"I am committed to the time it takes and I am committed to open communications. My slogan is honest action. I think it's important to create and nourish partnerships and I think that through that kind of action you're going to find success."
"Everyone wants jobs to come to Wasco County, but there's lots of entities that work on that, so if your main focus is on that and nothing else, then you're not using your resources wisely," she said.