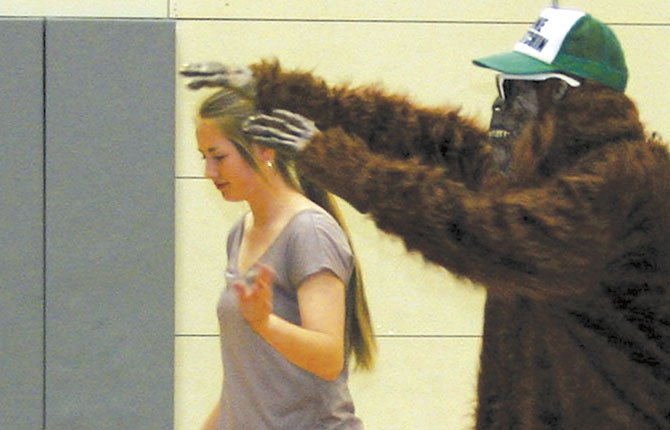 Students stomped their feet and cheered as rallying cries of "Go 'Hawks, go!," "Go Currents!" and "Go Squatch!" echoed off gymnasium walls at The Dalles Middle School during final The Dalles High School mascot presentations Apr. 7.
In response to legislation requiring schools to change their Native American-inspired mascots, student representatives of The Dalles High School Mascot Committee lead a series of presentations at both the high school and middle school, which were designed to give students an idea of what each of the proposed new mascots "could potentially look, sound or be like," as put by The Dalles High School ASB President Cole McDowell.
McDowell's presentation centered on the Riverhawks, one of the top five final mascot candidates both students and teachers will have the chance to vote in separate popularity polls this week. High school teachers voted Monday, high school students are scheduled to vote today after press deadlines, middle school staff was due to vote Wednesday night, and middle school students Thursday.
Featuring video footage of osprey, red-tailed hawks and other raptor species diving into the water to catch fish and swiftly gliding across the ground in pursuit of their prey, Queen's rock and roll anthem, "We Will Rock You" boomed in the background while audience members clapped along to the beat before McDowell launched into his pitch for the Riverhawks.
The point of the hawk video, he said, "is to show just how fierce and majestic they are."
Possible slogans that were featured in the hawks' presentation were "Wolf pack of the Sky," "Soar High" and "Hawk Strong."
Later in the assembly, Cheyenne Sherard, ASB vice president of The Dalles High School, introduced audience members to Sasquatch — or rather a student dressed in a full 'squatch costume.
Students cheered as their potential new mascot danced and struck countless poses before being pitted against one middle school student in a "hop-squatch" contest across the gymnasium floor.
Other student presentations included an electricity-themed pitch for The Current mascot, as well as one featuring a whitewater raft on wheels for the Rapids and another snake-themed arrangement for the Rattlers.
Vice principal at The Dalles Middle School Lance Masters said he was incredibly impressed with the student presentations at the assembly.
"I'm so proud of our students who were involved in the selection process. It's been really great to witness their dedication to the project and the growth they've experienced, as well as the consistent teamwork between the two schools. As a professional educator, it's just really rewarding to see the kind of engagement these students have shown."
During the mascot assembly at The Dalles High School on Thursday, Apr. 3, District Superintendent Candy Armstrong said she too observed a gratifying level of student engagement.
"I sat in the back of the auditorium so I could just get an overall impression of the students' reactions and was amazed by how much energy there was in the room," she said. "I talked to a couple of them afterwards and asked, 'Which are you gonna vote for?' and they told me that they thought they knew before, but now they weren't so sure. 'I'm really going to have to think about this,' one of them said."
The lead presenters at the assemblies were made up of student members of the Mascot Committee who recruited their peers to assist them in designing the presentations to express each mascot's uniqueness, connection to the area and overall ability to inspire school spirit in the form of skits, slogans, cheers and artwork.
"They were all real leaders," Trudy Townsend, district advisor to the Mascot Committee, said. "What we really were trying to do was give students a chance to try each mascot on for size and see how it fit, and I think we definitely succeeded."
"It was really great to see the kids have so much fun with it after all this time," she said. "It's been a lot of work and they've really put a lot into it."
Voting, Townsend said, "will be happening over the next few weeks and will engage a lot of different audiences, and not all of them will get an assembly."
While school staff will also have the opportunity to cast their votes, Townsend said this will occur separately from the student voting process "so if students wish to, they will be able to take their teachers' opinions into account."
"Ideally, everyone would all come out and say they want the exact same one," she laughed. "But it doesn't always work that way, so that's why we want to know."
Although "not all the details have been worked out yet," Townsend said the committee hopes to wrap up voting at the middle school and high school this week and talk more about how to engage the district elementary schools as well as gather feedback from other community populations in the process that follows.
"It's going to be a hard decision," Armstrong said. "But we know the kids will take care of it."