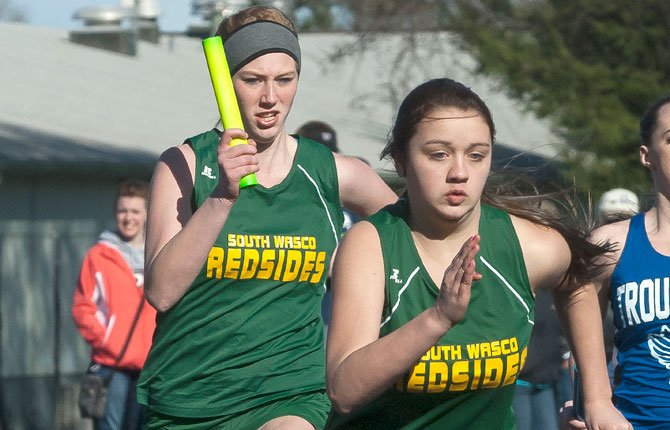 The South Wasco County girl's track and field team continued its upward climb in the 1A ranks Tuesday with five top outputs for 91.5 points and a third-place finish at Tuesday's Tri-River Meet in Culver.
In three events to start the spring campaign, the Lady Redsides have chalked up a second and back-to-back thirds.
Senior speedster Zoe Morelli kept humming along in her two events, the 200-and-400-meters, with a pair of firsts, setting a personal record at 400 with a final marker of one minute and 2.61 seconds.
At 200, Morelli added a time of 28.56.
Another senior, Joy Kelly, could not be denied in the 3,000-meters, an event where she clocked in at 13:21.85 for top honors. She was also part of the 4x400-meter junior varsity relay team along with Cassie Davis, Lindsey Hull and Paris McCartney that claimed gold in a solid time of 5:34.24.
Katherine Popchock joined in on the first parade in the pole vault, where she leapt to a height of 8-feet to move past the field of seven participants.
The group of Tatum Hahn, Popchock, Morelli and freshman standout, Ally Muhleman joined forces for a 4:44.31 to wrap up second-place recognition, less than a second off their personal record of 4:43.64.
Tatum Hahn added a third-place tally in the 800-meters in 2:49.51, Kelly placed third in the 1,500 by crossing the tape in 6:12.27, and Popchock earned bronze for her try at the triple jump at a distance of 29-11.25.
The 4x100 relay team of Hull, Kelly, Morelli and Popchock tallied fourth in 56.16, and Muhleman carded a fifth in the 300-meter hurdles in 58.79 to help the team score 91.5 points.
Kennedy High School finished in first place with 153 points and Regis claimed second at 130.
On the boy's side, Kennedy completed the sweep with 147 points. Culver (105), Regis (101) and Santiam (96) rounded out the top-4 teams. SWC put out 56 points to secure sixth-place out of the field of seven.
The Redside boys had eight top-3 finishes and firsts from Loreto Morelli, Jeff Jimenez, Shawn Hardy-Lester and Colton Nannini.
Loreto Morelli scored gold in the 400-meters with a time of 54.30, finishing ahead of Nannini, who had a marker of 57.95.
Morelli added a top outcome in the 300-meter hurdles in 43.90, Jimenez added a time of 29.10 for tops in his junior varsity 200 and Morelli chalked up second in the 100-meter hurdles with a finally run of 18.33.
Hardy-Lester dominated his field in the junior varsity 400-meters at 1:21.46, and Nannini dropped a distance of 31-05 for top honors in the shotput.
Ellis Rager placed fourth in the javelin with a toss of 118-01, Logan Wraught was fifth in the junior varsity discus at 66-10, and Brody Myers leapt to a distance of 32-09 for seventh in the triple jump.
The Redsides hit the track again at 11 a.m. Friday for the Dick Horyna Invite in Stanfield.