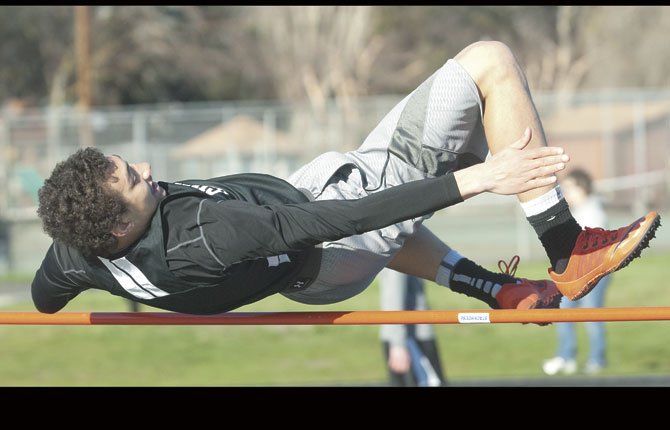 With only one event to compete in, the Sherman boy's 4x100-meter team of Blake Evans, Nick Coleman, Maverick Winslow and Brett Evans picked up first-place in a time of 46.70 seconds, less than half a second off their personal record at Saturday's Condon-Wheeler Invitational.
A day earlier, the Husky boys and girls enjoyed a solid afternoon in Estacada with a combined 18 top-2 outputs, including 10 gold medals while facing 11 teams from across the state for the Small School Invitational.
With the help of Winslow, Isaiah Coles and Brett Evans, the Husky boys tallied 150 points, nearly doubling the totals put up by Estacada (86) and third-place City Christian (82.5).
Brett Evans did his damage in the 800-meters with a personal record of two minutes and 12.18 seconds to handle his group.
Coles, on the other hand, amassed a meet trifecta with wins in the high jump, triple jump and 110-meter hurdles.
In the triple jump, Coles hit the dirt at 38-feet-10 inches, beating Winslow and Brett Evans, who tied for second place at 37-11.
Coles went on to dominate the long jump in 17-10, and wound up in a tie for first place with Winslow in the high jump in a height of 5-06.
The freshman Coles ended his triumphant run in the 110-meter hurdles where he stopped the watch in 22.02, .82 ticks ahead of Blake Evans (22.84).
Evans had a distance of 127-10 for second in the javelin, Kevin Hart reeled off a toss of 95-10 for his efforts in discus and the 4x100-meter relay team of the Evans boys, Coleman and Winslow matched wits for a time of 47.00 to pick up second place.
Coleman placed third in the 1,500-meters in 4:50.72, Tanner Sandquist notched fourth in the 800 in 2:25.92, Winslow added a third in the 100 at 11.91, Hunter Grevnik tallied fourth in the 3,000 with a marker of 11:55.39, and Kenny Earl added a solid attempt in shotput with a toss of 31-07.5.
Once again, the Husky girls came through with several personal records and four first-place finishes to rack up 122 points for second place.
Estacada had 144 for first place, Damascus Christian ended up third with 59 points, and North Clackamas Christian was good for fourth place in the team standings with 52 on the scoreboard.
Meagan McKinney hardly broke a sweat in the 100-meter dash, where she clocked in at 13.74 seconds and a personal record.
Andie Harrison answered the call in the 200, where she had a time of 28.51 for her gold medal.
Freshman Brittney Orendorff could not be denied in her try at 300-meter hurdles, as she motored home in 54.53 for top recognition.
Harrison, Sabrina Green-Hite, Orendorff and McKinney added to their medal count with a second consecutive first in the 4x100-meter relay where a time of 56.30 moved them up the charts.
Harrison placed second in the 400 in 1:07.02 and in javelin with a throw of 114-01, and Green-Hite came close in her long jump event with a leap of 11-04.5.
Janet Guzman chalked up third place in discus with a toss of 72-01, and she tallied fifth in shotput at 21-10.5 and fifth in javelin at 86-11.
Emily Hill had three fourths on the day in the 300-meter hurdles (1:04.70), long jump (11-03) and 100-meter hurdles (21.53).
The Huskies hit the track again for another meet at 11 a.m. Friday.