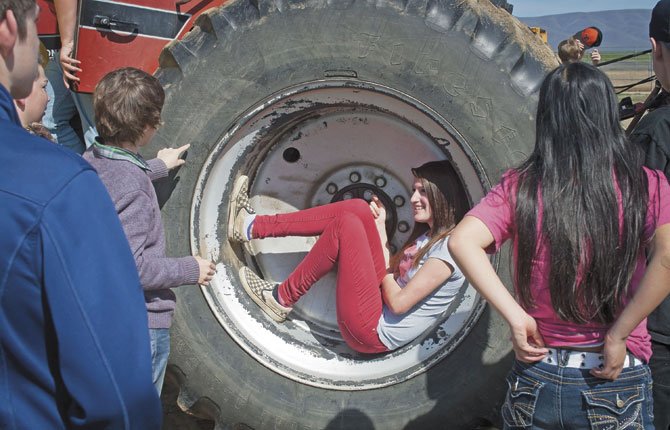 "I want to see how they herd the cows and bring them toward us," said fifth grader Allie Amerson Tuesday as she hung on the corral fence at a Maupin ranch.
Her eyes were focused on the dust cloud rising over a nearby hill and minutes later, she got her wish. A herd of Angus-cross cattle was driven into the stock yard by three cowboys on horseback, with a lot of help from a working dog.
"I most wanted to see the horses," said Maddy Stryffeler, also a fifth grader.
On April 8, Amerson, Stryffeler and 58 other students from the Yamhill Carlton Intermediate School visited the Dillon Land and Cattle Company ranch on Oak Springs Road. They had been invited by Keith Nantz, general manager and business partner, during a visit to the school in January to see how a cow and calf operation works. He heads the North Central Livestock Association. The visit was set as part of the Adopt-A-Farmer program set up by the Agri-Business Council of Oregon.
"We have about 250 products grown and raised in Oregon and, outside of California and Florida, this state produces more food than any other place in the world," said Geoff Horning, executive director of the council, in a greeting to students upon their arrival at the Maupin ranch.
He said the purpose of the field trip was to help students understand that meat doesn't just come in packages on store shelves and milk in cartons. These and many more foods are produced by an industry that faces many challenges to get the job done.
"This is a good age for us to start having a conversation about where their food and fiber comes from," said Horning.
He said elementary students participate in the Oregon Agriculture in the Classroom program and high schoolers have Future Farmers of America. That left an educational gap at the middle school level that the council decided three years ago to fill.
"We fund this field trip for students to see, hear, touch, smell and get a taste of what life is like on a farm," said Mallory Phelan, director of community outreach for the council.
As part of the Adopt-a-Farmer program, Jane Gullet, food service coordinator for Yamhill, applied for a grant from $500,000 allocated by House Bill 2649 for agriculture-related education. She received about $24,000, with 80 percent used to provide students with beef lunches at least once each week and the remaining 20 percent for educational activities.
The Yamhill students were shown roping demonstrations Tuesday and learned how Poncho, a border collie, helped Nantz move cattle. In addition, they were given a lesson about the different types of machinery used in planting, maintenance and harvest activities.
Jason Ware, production manager at Dillon, taught them about steps taken to prepare the ground to yield hundreds of acres of hay, barley, wheat, alfalfa, orchard grass, and other crops.
He emphasized the important role that science plays in the agriculture industry where expenditures for materials and labor eat up a large share of the profit from sales. Students also learned about irrigation and water conservation issues that affect farming operations.
Nantz had gotten donations from Morrow County Grain Growers and Les Schwab Tire Center in The Dalles to provide the students with hamburgers and vegetable trays for lunch.
Maupin cowboy Eric Hyatt and Wamic rancher Brendon Johnson helped round up cows — and students when necessary.
"This is about putting a face on agriculture to help people understand that we earn our livelihood from the land so we aren't going to do anything to harm it," said Johnson. "As ranchers, we wouldn't feed anyone else's kids what we wouldn't feed our own."
He and Nantz wore video action cameras while moving cattle to provide Lyon Films with footage of the four-hour visit. Director Devon Lyons said the company based in Portland was hired by the council to create a documentary that will be shown at the annual Denim and Diamond fundraiser in early November.
That event, among others, as well as membership dues, helped the council get Adopt-a-Farmer started with three Beaverton schools. The number of ranchers and paired schools between Portland and Eugene has grown to 18 this year — reaching more than 1,600 students — and will climb to 30, including Medford and Bend, in academic year 2014-15.
By pairing a middle school classroom with a farm or ranch for the entire academic year, and arranging for at least one field trip, students build a memorable relationship with their adopted farmer, said Phelan.
"Just as no two farms are exactly alike, neither are classrooms and, for that reason, we are very flexible in how the year goes," she said.
Kris Brunner, a social studies teacher at Yamhill, was one of the chaperons for Tuesday's adventure. He said students began studying about cattle production after meeting Nantz and were excited about a journey into the semiarid region of Oregon.
"This is just a great opportunity for them to see a different part of the state and something that isn't a regular part of their lives," he said.
The Agri-Business Council is working with the Oregon Cattlemen's Association and Oregon Beef Council, among others, to "tell ag's story" and provide information about the economic importance of these industries.
"This is our calling," said Johnson. "We spend thousands of dollars and hours of our lives feeding people."