Portland —The Bonneville Power Administration presented Mosier resident Fred Walasavage with one of its highest honors as part of the Administrator's Excellence Awards program.
The annual program honors employees and members of the public who have made exceptional contributions to BPA's mission, the electric utility industry or the local community through innovation, initiative, superior service or courageous acts.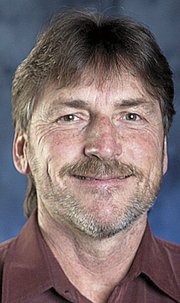 Walasavage, an environmental protection specialist working out of BPA's office in The Dalles, received the Administrator's Exceptional Service Award, which recognizes superior service and achievement.
BPA Administrator Elliot Mainzer presented the award March 20 in a ceremony at its Portland headquarters. "Over the past year, each and every awardee demonstrated an exceptional commitment to public service," Mainzer said. "It's my pleasure to honor these remarkable people who are making a positive difference at BPA and in the Pacific Northwest." With 25 years at BPA, Walasavage has a long list of career accomplishments in environmental protection. Among them are his designs of two programs that have greatly reduced BPA's environmental liabilities and costs.
The Pollution Abatement Clearance Program ensures all hazardous waste generated by BPA is disposed of properly. The Environmental Land Audit Program ensures BPA doesn't purchase environmentally contaminated property. These two programs have saved BPA ratepayers millions of dollars over the years. Additionally, Walasavage continues to provide outstanding environmental support to Transmission Services staff. On a broader level, his expertise has been recognized with his selection as an officer and instructor in the International Right of Way Association.
Walasavage received a master's degree in natural resource management from California State University-Chico in 1985 and a bachelor of science from Unity College, in Unity, Maine, in 1981.
Award recipients were nominated by their peers and were evaluated on numerous criteria such as excellence in their chosen field, technical achievement, community outreach or service as an "unsung hero."