Every time I see an adult on a bicycle, I no longer despair for the future of the human race. — H. G. Wells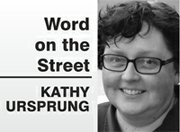 Seeking customers on two wheels: More than a dozen businesses may be on their way to becoming certified bike-friendly businesses through Cycle Oregon.
A pair of workshops on how to qualify drew a good turnout to the Urban Paper classroom including The Whole Ball of Yarn, Clock Tower Ales, Skipper's, Cousins', Uppercut Barber Shop, Oregon Motor Inn, Maison de Glace, Scooter Performance Racing, Sunshine Mill, the Mt. Adams Chamber of Commerce and even Wasco County Commissioner Rod Runyon.
The Dalles already has several bike-friendly businesses, including the ANZAC Tea Parlour, The Dalles Fitness and Court Club and Urban Paper.
Chad Sperry of Breakaway Promotions led the workshops, which drew on Mid-Columbia Economic Development District for computers.
Another workshop is already in the works. For more information, contact The Dalles Main Street coordinator Matthew Klebes at 541-370-2966 or tdmainstreet@gorge.net.
Operation Feed: Cousins' Country Inn and Cousins' Restaurant and Saloon will host its third annual food drive, Cousins' Operation FEED (Fill Every Empty Dish) beneffitting The Dalles Salvation Army Center at 623 E. Third St., The Dalles.
Cousins' staff will drop off plastic bags with fliers to homes throughout The Dalles on Monday, April 14. The bags can be filled with non-perishable food items and put on the porch between noon and 4 p.m. Thursday, April 17, where they will be picke dup and delivered to the local Salvation Army Center. Donations can also be dropped off at Cousins' all day April 17. Everyone who donates a bag of nonperishable food will receive a coupon from Cousins' Restaurant and Saloon for a free appetizer or dessert.
To volunteer, contact Oceana Brock at Cousins' at 541-298-2771 or email oceana@cousinesthe
dalles.com.
Numbers Count: The Certificate of Achievement for Excellence in Financial Reporting has been awarded to the City of The Dalles by the Government Finance Officers Association of the United States and Canada (GFOA) for its comprehensive annual financial report (CAFR). The Certificate of Achievement is the highest form of recognition in the area of governmental accounting and financial reporting, and its attainment represents a significant accomplishment by a government and its management.
The City's CAFR has been judged by an impartial panel to meet the high standards of the program including demonstrating a constructive "spirit of full disclosure" to clearly communicate its financial story and motivate potential users and user groups to read the CAFR. The GFOA is a nonprofit professional association serving approximately 17,500 government finance professionals with offices in Chicago, IL, and Washington, D.C.
Something cool to the east: If you frequently populate the roundabout, you may have noticed some changes going on at Sunshine Mill. The large mill building is gradually taking on a new color palette designed to coordinate with the smaller warehouse building next door.
The sharp wine-and-black color scheme is quite striking in place of the tired overall often dingy white of the past. The transformation is taking place before the community's eyes. I'll be interested to see what finishing touches are in store.
Dessert time: Do you have grandma's secret cherry parfait recipe tucked away in your office desk drawer? This is the time to bring it out for the Cherrymarvelous Northwest Cherry Festival dessert bake-off. It's a benefit for The Dalles Main Street.
Guest judges are Gary Honald, Beth Kaser, Antoine Tissot and Megan Thompson. Deadline to complete an entry form is April 22.
Desserts with at least five servings (preferrably more) should be dropped off at the bake-off table at the entrance of the Agriculture Festival no ealier than 1 p.m. Judging will be at 3. Winners will be announced at 4. Remaining servings will be sold as a bake-sale Main Street fundraiser. Pick up entry applications at The Dalles Area Chamber of Commerce.
Earth Day-ready: Pacific Power customers will see a change in the envelopes that come with their envelopes. Instead of two, they'll receive just one that their bills arrive in. The envelop can also be used to send their payments back to the company.
Switching from the traditional two-envelope combination to a single, reusable envelope will help keep the utility's operating costs low and benefit the environment. "Last year alone, we sent more than 16 million return envelopes to customers, yet only 5 million were used to return payments," said Karen Gilmore, Pacific Power vice president of customer service. This measure saves money and resources.