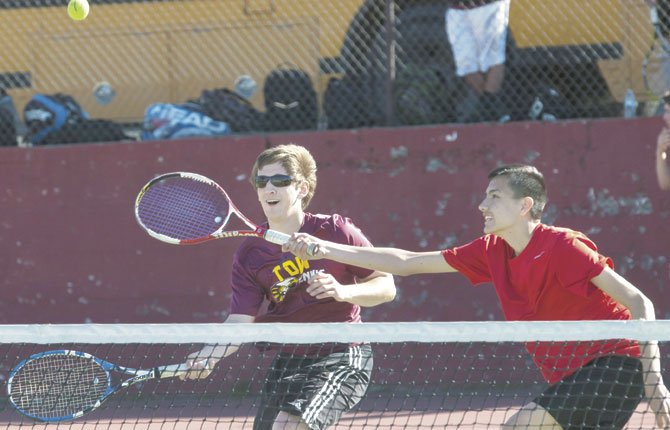 Thinking back to Wednesday's league-opening match versus Hermiston, an 8-0 loss, The Dalles head boy's tennis coach Andrew Hughes expressed a few elements of disappointment, but instilled confidence in his team's ability to flip the switch down the stretch.
"We had such a good week of practice and to see it not manifest itself to wins today was a little disappointing," said Hughes. "We did see our players make improvements to their game, so it is encouraging. We will keep practicing and re-enforce what we have been working on to improve more and more by the end of the season for districts."
The Dalles lost 8-0, and still came close to winning two of those singles matches.
Cole McDowell lost in three sets after winning the opener by a 6-0 score. Hermiston's No. 2 player, Tyler Wadekamper, bounced back in the next two games to post scores of 6-3 and 6-4 to get on a winning track.
At No. 3, Christian Munoz played a tough two sets with Vinny Whitesell in defeat. He lost 6-0 in the opener, but Munoz fought hard in the second set, losing 7-6, 7-3 in the tie-breaker.
Griffin Martin, playing in just his second match of the season, is still finding his groove and played inspired versus Luke Wyatt, losing 6-1 and 6-4.
At No. 1 doubles, William Coy and Ethan Semlor were a few bounces from taking the opening set, but lost 7-5 to Jacob Snell and AJ Garcia. The Bulldog duo then completed the sweep with a 6-1 winner to take the match.
The Dalles makes a trip to Hood River Valley for another league tussle with the Eagles at 4 p.m. Tuesday.