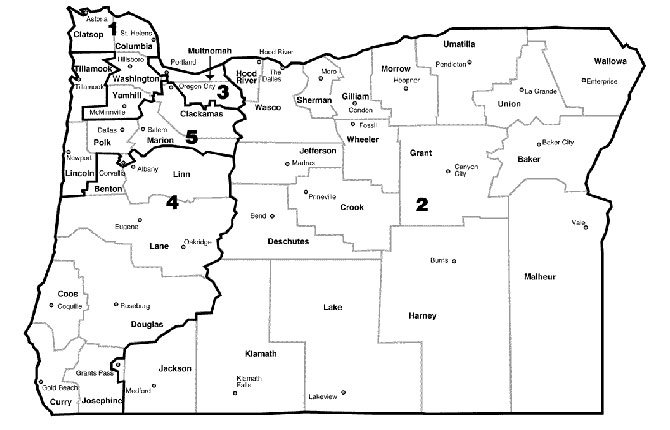 Corvallis Gazette-Times:
A recent news story from The Associated Press reminded us again of one of the more remarkable achievements of the 2011 Legislature, and raised some intriguing questions for the 2014 elections.
You'll recall how the 2010 elections ended with a state House of Representatives that was evenly divided between Republicans and Democrats. Democrats held the narrowest of edges in the Senate, a 16-14 majority.
As it turned out, that was the Legislature that was charged with adopting new congressional and legislative maps, the process known as redistricting. It had not gone well in the past. In general, if lawmakers can't come up with a plan — an outcome that occurs with wearying regularity — the secretary of state draws new legislative maps. A federal judge draws the duty of rejiggering congressional boundaries, with the general idea of creating districts that are more or less equal in population.
The tie in the House of Representatives in 2011, however, meant that lawmakers had little choice but to roll up their sleeves and work together on redistricting. And they succeeded. It was the smoothest redistricting process in a century.
What we're left with in the new congressional districts are a pair of districts that might turn out to be somewhat more competitive for Republicans — assuming that the GOP has been able to recruit some strong candidates.
Of Oregon's five congressional districts, four are held by Democrats. Republican Rep. Greg Walden, of the 2nd District, is the Republican and odds-on favorite for re-election, although he faces what could be a spirited primary challenge from Klamath County Commissioner Dennis Linthicum and, potentially, Democratic candidate Aelea Christofferson.
In the mid-valley's 4th District, Democrat Peter DeFazio is the incumbent and likely is a strong favorite over the chairman of the state Republican Party, Art Robinson, who's mounting his third race against DeFazio.
Earl Blumenauer, who represents the Portland-centric 3rd District, has to rate as the favorite to defeat Republican James Buchel. And even though the 1st District, now represented by Suzanne Bonamici, lost some Democratic voters in redistricting, Bonamici would seem a safe bet for re-election, although one of her potential GOP opponents is Delinda Morgan, a vineyard owner who ran a spirited race in 2014.
That leaves potentially the most interesting Oregon congressional district, the 5th, now represented by Democrat Kurt Schrader. It's long been considered Oregon's most competitive district — and redistricting might have made it even more so, considering that the district lost parts of reliably Democratic Corvallis and Portland.
Schrader has the advantage of incumbency. But one of his potential Republican foes, Clackamas County Commissioner Tootie Smith, could prove to be a formidable opponent, considering that the 5th District now includes a chunk of Clackamas County. Another Republican, former congressional aide Ben Pollock, also is in the race.
Oregon voters would be well-served by competitive congressional elections. And if those come to pass in 2014, voters can offer thanks in part to the bipartisan redistricting efforts of the 2011 Oregon Legislature.