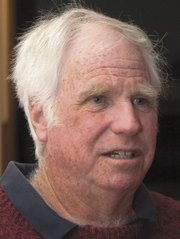 Britt Storkson is making a second run for the District 59 seat in the Oregon House of Representatives based on the belief that holding a public office is the only way to reform the way that Wasco County Electric Co-operative does business.
He said the company is a "state-sanctioned monopoly utility" that "buys politicians" and hires lawyers to fight any attempt by ratepayers to learn how money is spent.
Wasco Electric's manager, Jeff Davis, declined to comment on the charges made by Storkson, who resides in The Dalles.
He is in a Republican runoff with incumbent Rep. John Huffman, also from The Dalles, that will be decided in the May 28 primary election. There is no Democratic candidate so the winner of that contest will have his name singly listed on the November ballot.
District 59 includes more than 63,000 people in Western Wasco, Wheeler, Jefferson and northern Deschutes counties.
In 2010, Storkson ran against Huffman but lost by a 2,257 to 145 ballot margin. Undaunted by that defeat, he is back in the 2014 race and paying once again for his own campaign so "no person or corporation can influence his decisions."
"I'm not for sale," he said. "I'm running for a government by and for the people — not government for the highest bidder."
Storkson, 59, is a licensed landscape contractor in irrigation and backflow installation and makes computer controls for water pumping. His criticism of the co-operative has been ongoing since the late 1980s.
He decided to become a state candidate after running unsuccessfully for a position on the co-op board of directors 10 times. He decided those elections were "rigged" and change had to happen from a level where policies governing power companies could be changed.
"They hold their elections because the law requires it and then they count their own votes and unilaterally declare the winner," he said.
In 2010, Davis told The Chronicle that the co-operative had granted Storkson the right to have an independent observer present at vote counting during one election, and that individual found no improprieties.
At one point, Storkson took the co-operative to court in his quest to make the business more "accountable to ratepayers." He wanted an in-depth review of financial records but ended up being fined $1,800 by Judge John Wolf for filing a lawsuit without merit.
He says not only was the "secret trial" rigged, but he learned that the co-operative had compiled a dossier on him, which he believes has set him up for blackmail, extortion or identity theft.
Meanwhile, he said co-operatives across the nation continue to give money to anyone or any organization they want — including, in some cases, politicians being supported by terrorists or criminals. And ratepayers are not informed about where the money collected from utility bills is being spent.
It is time, said Storkson, for legislators to quit taking money from co-operatives that they are supposed to oversee and regulate.
He said Huffman and Sen. Ted Ferrioli, R-John Day, have refused to help him make co-ops more "transparent." But that is unsurprising given that they receive campaign contributions from utility companies, and so have no incentive to change the existing system.
"There is something seriously wrong with our political representation," he said.
Storkson said he is not a "big-business" Republican because he was fired from Home Depot after nearly nine years on the job. He said a jealous manager ended his career after he created a device to protect children from injury with cable cutters in the electrical department.
His political platform also includes opposition to the Columbia River Crossing, a proposed bridge to link Portland and the neighboring city of Vancouver. He said $1 billion has been spent on the project before a single shovel of dirt has even been turned.
He is opposed to gay marriage but supportive of civil unions for same-sex couples. He said every American should have the right to own guns and supports "right to work" legislation because it creates and retains jobs. He said the situation with Boeing moving some of its operations from Washington South Carolina illustrates the benefits of allowing employees to choose whether or not to be part of a union.
More information about Storkson is online at http://storksonforus.com/