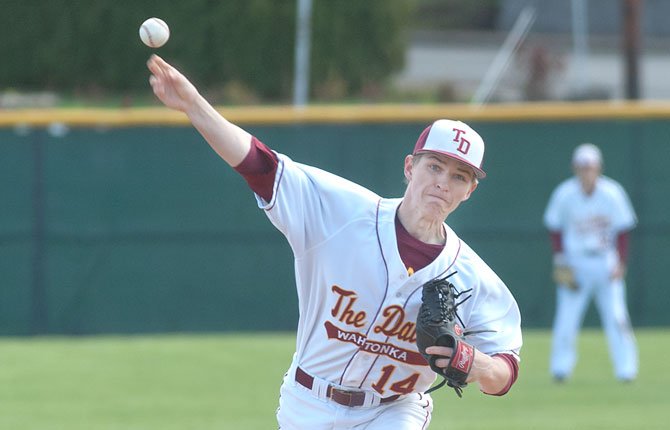 Down to their final three outs, No. 4 The Dalles Wahtonka still had the magic in the bats to pull off another come-from-behind stunner.
The Eagle Indians stormed back from a 4-3 deficit with five runs on five hits, a walk in the top of the seventh inning and reliever Steven Bartells recording the final three outs in the home half of a 8-4 triumph over 6A Gresham Wednesday in a non-league baseball game at Gresham High School.
In the decisive seventh frame, Gordy Harris led off with an infield single and Bartells, the No. 1 hitter, reached on a walk.
Nolan McCall loaded the bases with a sharp single to left field to set up Clay Copper.
Copper drove in Harris with an RBI sacrifice fly to even the score at 4-apiece.
On the play, the throw got away from the Gopher catcher, but the throw made it back in time to nip Bartells trying to score.
With two outs, Austin Wilson rifled a double over the left fielder's head to score two runs to give TD a 6-4 cushion.
Zach Cantrell then plated Wilson on an RBI single to right, and on the play at the plate, Wilson made a hard slide that the Gresham catcher dropped, so he was called safe.
Zach Keimig capped the successful frame with an RBI double down the leftfield line to chase home Cantrell to make it an 8-4 game.
Up by four runs in the bottom of the seventh, TD coach J.R. Runyon sent out Bartells to close the game out.
The senior right-hander tiptoed through a minefield by putting two runners on with a walk and a hit batter, but he made the pitches to record the final outs to seal the Tribe's seventh consecutive victory.
Colton Walker (2-1) got the start and lasted six innings.
He scattered four hits and struck out two.
Three of the four runs Walker allowed were earned, as he lowered his earned run average to 1.56 on the season.
Wilson paced the Eagle Indians' 11-hit attack with a 2 for 4 split.
The senior drove in three runs and scored once.
Bartells had two hits, a walk and three runs, Walker had two hits and both Harris and McCall notched a hit and run each.
Colin Noonan went 1 for 3 with a walk and an RBI.
The Eagle Indians (9-2 overall) next play host to 6A Lincoln High School (5-5) at 4 p.m. Friday.