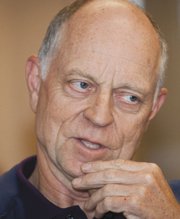 Long-time The Dalles resident and one of this year's Wasco county commissioner candidates, Chuck Langley says he's running for office with one major goal in mind: Reinvigorating the discussion on urban renewal and raising awareness about why, according to him, it's anything but good for the community in the long run.
"I am a researcher, and I've been an observer of everything that's gone on around here for nearly 45 years," he said. "Part of the problem is urban renewal is 25 years old, so you have to be at least 50 to have lived through it. To a lot of people, it's ancient history. If you weren't paying attention to what the government was doing 25 years ago, you're not going to understand it now. The only way that can change is if people start talking about it again, and that's what I aim to do."
While Langley said he is not anti-project by any means, citing his past advocacy for the development of the Riverfront Trail, he said the proposed Washington St. underpass "is a bad project because it's just another public works endeavor that can't raise the tax assessed value" of the area, which he posits as the only real mark of economic progress.
By putting money toward the construction of a new underpass facing the river, he said, "You're only granting access to something that's already accessible. The time and money that it takes to do that is of no actual benefit to the downtown."
Langley also named the Discovery Center as yet another example of an urban renewal project that was unable to follow through on its proponents' promises of economic improvement.
"By the time we get done paying for the Discovery Center," Langley said, "it's not going to mean any direct revenue to Wasco county simply because it's a nonprofit organization."
Langley said he thinks it's high time the county "calls an end to it," citing dozens of spreadsheets filled with his own research as evidence. All of the calculations and conclusions found within, he said, are based directly off of information available to the public and accessible through the county assessor's office.
Through his research, Langley said he discovered time and again that urban renewal projects had very little to do with increasing the overall real market or tax assessed value of an area.
"Across the board," he said, "way too much has been justified in the name of economic development. These days, everybody justifies what they're doing without any accountability. If there's no assessment of the actual effects of a project after the fact, then how do you know what it actually did?"
"Every time a dollar changes hands, it seems someone's saying, 'That's economic development.' Except the fact is that real, genuine development from the improvement standpoint is when you have something that continues economic activity for prolonged periods of time, unlike one-time, infrequent events like art and music festivals, for example."
This formula, he said, makes for highly impractical governing that actually does a lot to inhibit "real" economic growth in the community.
By creating the public works, parks, library and soil and water districts, he said, government has actually "created a long-term commitment of taxation without our elected officials having to wrestle with the big picture. And if they end up creating a special roads district to finance the roads, we won't have to wrestle with that anymore either."
"As a commissioner, I wouldn't go for launching big projects unless they were actually approved by the voters," Langley said. "I'm willing to be truthful with the taxpayers and prevent them from further abuse by county and city government projects that don't do any long-term good for the community."
"I think an awful lot of governing is about common sense and dealing with the problems we're faced with," he said.
"Urban renewal is one of those problems you see everyday, but one we've done next to nothing about. It's time to change that."