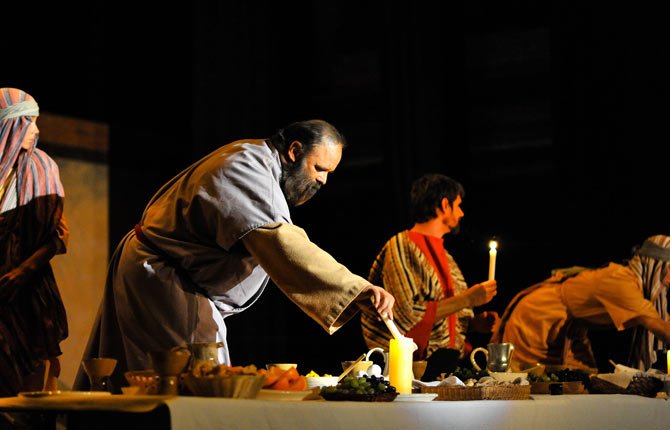 The Last Days of Jesus pageant begins its four-day run Thursday, April 17, at a new location, Calvary Baptist Church, where the Last Supper and Garden scene will be played.
Marcus Morgan, chairman of the Last Days of Jesus committee, encouraged those who want a seat to come early, because the new venue, at 300 seats, has fewer seats than the old venue, The Dalles High School auditorium, which seated more than double that number.
However, for those who can't find a seat in the sanctuary, for the 7 p.m. event, there will be seating in the gym, where the Last Supper will be live-streamed on a large screen.
Previously, the Garden Scene took place at City Park, then participants walked to the high school for the Last Supper. The supper scene couldn't take place in the auditorium this year because of falling ceiling tiles in the auditorium.
Friday's trial, crucifixion and burial scenes are taking place an hour earlier this year. They will start at the Wasco County courthouse steps at 7 p.m. for the trial, followed by the crucifixion in the upper parking lot of the library, and then the burial at First Christian Church.
On Saturday, The Seventh Day Adventist Church is hosting a prayer walk that starts at 7 p.m. at the Wasco County Courthouse, walking to the library and ending at First Christian Church.
On Easter Sunday morning, at 8 a.m., the resurrection scene takes place at First Christian Church.
Morgan wanted to explain the meaning behind the pageant, which is in its 36th year.
"We see signs and stuff, we see the banner downtown: Last Days of Jesus. To me, what is Last Days of Jesus? It's not a title that is self-explanatory, so I just kind of wanted to lay it out."
"Some people call it a passion play, which is a good name because most people know what passion plays are, or at least a play. And then some call it an Easter celebration, which I don't like because Easter's a pagan holiday, but I think the pageant really appropriately describes it."
"I looked up in the dictionary what a pageant meant and it's a dramatic public presentation of a historical event. Bingo," Morgan said.
"So what is Last Days of Jesus? It's just a group of dedicated people who want to live out their faith and share the good news of Jesus Christ to everyone. And the cool thing is that it's not a one-church ministry. This ministry unifies churches in The Dalles and there's about 12 to 15 churches involved," he said.
"Our main goal for Last Days of Jesus is just to share with our community who Jesus is and what he's done for us. The script is taken right out of the Bible. There's four books of the Bible called the Gospels. It's Matthew, Mark, Luke and John, and these four books of the Bible, they explain the history of Jesus' life on earth," Morgan said.
"They show and prove that Jesus Christ was the son of God and they depict his whole time when he lived here and all the prophecies that it fulfilled," he said.
"The biggest thing the Gospels laid out is Jesus' miracles that prove he is God," he said. "Like healing the blind and feeding 5,000 people out of a few loaves of bread and two fishes. He walked on water. And he rebuked a storm at sea and just stopped it."
"I guess the main thing that we're trying to show is that Jesus, the son of God, died on the cross to pay for our sins, and when we die we face judgment for every word that we have said and every action that we have done, we will answer for them, but Jesus will be able to step in and say, 'I've already paid for his sins. I died on the cross as a payment for that.' He steps in there and takes that payment that you deserved and takes it upon himself, so that we can be clean and whole and be able to be in the presence of God and have eternal life."
As for the dedication of the actors participating in the pageant, it is demonstrated by the man who plays Jesus, Morgan said. This is Steve Labrousse's second year acting as Jesus, and it's been a challenge this year because he moved to Seattle to attend college, but he's still come back on weekends since January for practices.
Practices include beating of Jesus with whips, and one other actor accidentally caught Labrousse on the arm with the lash of a whip.
"Welts on the arms. For him, to think those few little lashes hurt tremendously, but what Jesus actually got was way worse," Morgan said. "And so he can kind of relate to the pain and suffering that Jesus took for us."
"Our main prayer is that everyone who comes out to see the pageant learns who and what Jesus has done for us and they will return and repent their sins and start on the journey of believing in Jesus Christ and walking in his path that leads to eternal life," Morgan said.
He added that the Last Days of Jesus gives an avenue for believers who want to live out their faith and share the good news with others, so everyone can decide for themselves whether they want to believe in Jesus and have eternal life, or not.