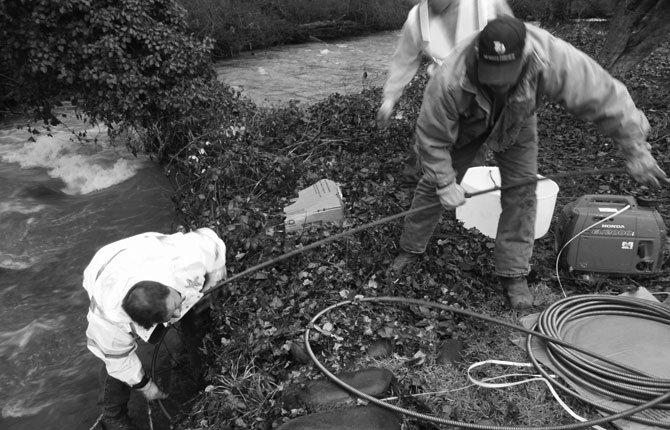 Many a The Dalles native spent long childhood hours playing along Mill Creek, cooling off on sweltering summer days, casting out a fishing line in the hope of a bite, or playing with the water skippers and periwinkles that live there.
So it was disturbing to learn that a pipe running through Ericksen's Addition at waterway mile 1.8 is pumping enough raw sewage into the creek to produce acute levels of E. coli bacteria as far away as the Second Street bridge.
Even more disturbing is the fact that, despite employing a variety of measures to locate the origin of the pipe since it was discovered about two years ago, city public works employees have been stymied.
Even more disturbing than that is the fact city, regional and state agencies are playing what seems to be a game of hot-potato about who is ultimately responsible for the pipe and should do something about it.
City officials, after crossing off a number of houses near the pipe, believe it isn't part of their system.
North Central Public Health District officials say posting the creek as a potential health hazard isn't their responsibility — they deal with water supplies, not waterways.
Until an April 10 health district press release — most likely spurred by questions from The Chronicle and others — the district hadn't even told the public about the problem. And when they did, they said they learned "recently" despite several acknowledged earlier site visits.
In fact, the pipe has been a topic of discussion among various agency folks for a couple of years. And neighborhood residents recall water flowing from the pipe years before that.
Health and city officials aren't the only ones passing the buck. Reporter Neita Cecil was directed to several other agencies including the Oregon Health Authority (which says it only handles ocean contamination) and the state Department of Environmental Quality (which says it only issues air quality advisories).
In the meantime, a potentially dangerous attractive nuisance runs through the center of The Dalles.
It is a matter of luck, not providence, that the community has seen only seven cases of E. coli in the past decade. And we don't know if milder cases related to the waterway are going unreported.
None of the public authorities that supposedly deal with health or the environment are willing to say "Yes, we will do something about this quickly."
It's unconscionable that Mill Creek wasn't at the very least posted as a possible health hazard as soon as officials learned that fixing the issue was going to be problematic and lengthy.
For years now, Mill Creek has been identified for greenway protection. That means much of the lower part of the stream has been identified for public recreational use. With that designation goes a public expectation that water will be safe to dip a toe in.
At this point, the lack of clear jurisdiction is not the issue. Someone needs to take responsibility to protect the public — and they need to do it now.
In the meantime, creek neighbors may want to put their own warnings out so children and others know now that they may be at risk. And if the city needs to tear up a street to locate a pipe contaminating Mill Creek — clear though the raw sewage may be — it should do it.