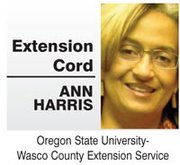 "Wow, is she already done?" That's the first reaction I get whenever I share with family and friends that my daughter is about to graduate from college. It is hard to believe that the time has gone by so fast. The second reaction is invariably, "So, what is she going to do now?"
All of us know someone who has worked hard, graduated from college and is now working in a job that did not require a degree. But does that mean that college is not worthwhile? In my current position as OSU Open Campus Coordinator, this is a concern that I often hear from potential students.
My answer has two parts: First, education and training beyond high school are necessary in order to obtain a living-wage job. (www.qualityin
fo.org/pubs/posters/ed
pays.pdf )

Second, that program, by itself, will not likely provide all of the experience that a student will need in order to get the job they want. Students must also have experience beyond the classroom.
There was a time when fewer people had degrees and a resume only needed to indicate degree completion in order to get an interview. Those days are long gone. In today's job market, it is absolutely essential that you have both a degree and relevant experience in order to even get past the initial resume screening.

Summer is around the corner, but it is not too late to find an internship or job. I encourage all college (and high school) students to begin to look for opportunities to work, intern or volunteer in an organization or business that will help them gain real-world experience. Even if you have to volunteer or take an unpaid internship in addition to your summer job, consider this an essential investment in your future. One that will give you a chance to not only gain experience, but to learn more about your field of interest and "try-out" the job to see if it is a good fit for you.

Need help finding possibilities? Your college career centers and Worksource Oregon offices can provide the assistance you need. You can also contact me at the OSU Wasco County Extension Office by either calling (541) 296-5494 or emailing me at ann.harris@oregonstate.edu.
Have a great and experience-filled summer!