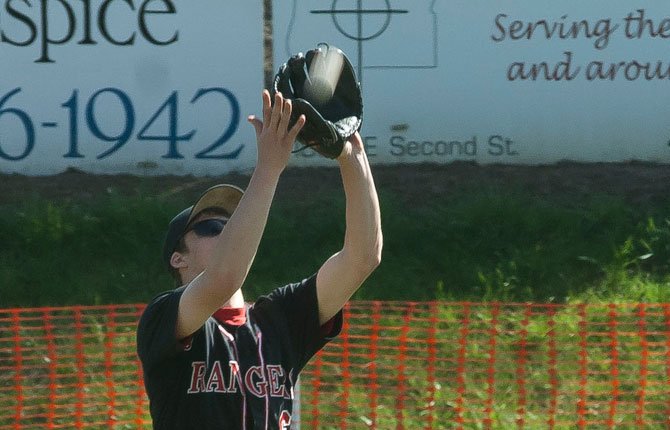 After two innings of the opening game, the No. 2-ranked Dufur Rangers fought back from a 4-1 deficit and took hold with an impressive offensive explosion for two mercy-ruled wins over Pilot Rock in both teams' Blue Mountain Conference baseball opener Friday afternoon at Dufur City Park.
In just 10 innings, the Rangers slugged out 31 hits and 36 runs in victories of 14-4 and 22-2.
Down 4-1 in the opening game, Dufur erased the deficit and built a cushion with seven runs in the third frame and tacked on six more in the fourth.
As part of that six-run fourth-inning outburst, Nathan Duling drove in two runs with a two-run double to left-centerfield.
Nick Little followed with another two-run double and Bryson Caldwell capped the barrage with a single to drive in Trever Tibbets and Connor Uhalde.
Caldwell paced the 14-hit attack with a 2 for 4 effort with a double and five RBIs, and Duling added three hits, two doubles, two runs and two RBIs.
Uhalde tacked on a 2 for 3 output with two runs, Jake Kortge finished with two hits, two runs and two RBIs.
After giving up a three-run home run in the first inning to Jacob Pierce, Dufur starter Cole Parke settled in a wound up with five innings of five-hit ball and five strikeouts and three walks for his second win of the season.
In the nightcap, Tibbets rattled off a 4 for 4 performance with a double, a home run, four runs scored and six RBIs, as Dufur completed the sweep with a 22-2 win.
With the Rangers up 3-2 in the top of the third inning, they put the mercy rule in effect by putting up 13 runs on 11 hits, while sending 19 batters to the plate.
Kortge went 3 for 3 with a double and four runs, Josh Keyser had two hits, three runs and two RBIs.
Duling added to his current hot hitting streak with two hits, three runs and four RBIs.
Tibbets was the beneficiary of all the offense, as he went the distance with four innings of three-hit ball and a strikeout.
Keyser struck out the side on 11 pitches to seal the win.
Dufur (10-2 overall) hosts Horizon Christian (4-2) at 4 p.m. Tuesday.