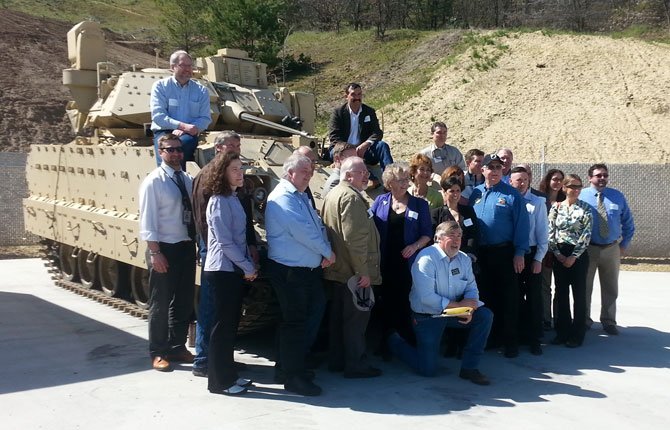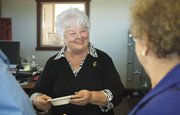 Wasco County's multiple programs to serve veterans — especially the high level of volunteerism — have drawn the attention of state and federal officials who came to town Friday for a facilities tour.
"We want to get out and see what best practices are throughout the state for our vets," said Diane McKeel, a Multnomah County commissioner who chairs the Veterans Committee of the Oregon Association of Counties.
Wasco County Commissioner Rod Runyon, vice-chair of the AOC committee, tried twice last winter to arrange the field trip for his peers but had to delay it due to inclement weather. He said the warm sunny day offered to visitors April 11 was worth the wait — plus he had time to expand the guest list to include representatives from U.S. Sens. Jeff Merkley and Ron Wyden's offices.
"I think we have more going on per capita than any other town and I think you'll see that today," he said to the 23 people gathered for the tour.
Joining the group was Rep. John Huffman, who lives in The Dalles and helped score $12.5 million in state funds for construction of the Fort Dalles Readiness Center that has classroom space for renewable energy technology students at Columbia Gorge Community College. The federal government contributed about $16 million to the project that has been described by military officials as the "crown jewel" of state armories.
"This was an interesting model that I don't think has ever been done before," said Huffman.
Also present was Cameron Smith, director of the Oregon Department of Veterans Affairs and one of his staffers. He said there are more than 320,000 veterans in Oregon and Wasco County is ahead of the curve with its service delivery system.
"We have a broad mission supporting veterans from four generations across five different wars, so we have a lot to do," he said. "Partnerships like these are going to make the difference."
Huffman and Runyon traded places as tour guides with The Dalles Mayor Steve Lawrence, Wasco County Sheriff Rick Eiesland, Wasco County Commissioner Scott Hege and Tyler Stone, administrative officer for the county. Wasco County Veterans' Service Officer Russ Jones and Patrick Wilbern, intake coordinator and a local National Guard soldier, were present to answer questions.
During bus trips to the readiness center, Oregon Veterans' Home, medical and mental health clinic, memorial at Kelly Viewpoint and regional jail, the guests were provided with information about local, regional, state and federal services provided to those who have served.
Lawrence said a volunteer force of 22 people that put in about 300 hours of time each month has made veteran services more efficient. He said Jones and Wilbern were able to work on getting claims done because volunteers were at the front desk of the 201 Federal St. office arranging appointments and handling other clerical duties.
Stone said the county and city had worked together to get the service office set up in a visible and easily accessible location several years ago. That had increased the number of veterans seeking assistance and the money they received in compensation and benefits contributed to the local economy.
He said 75 percent of veterans seeking Jones or Wilbern's help were ending up with some type of successful claim, compared to the national average of 45-50 percent.
"That's really where the difference is, that's where the rubber meets the road," he said.
He said volunteers had also started the Widows of Veterans Support Group and Home Fires Burning to care for female veterans and military families. In addition, the Veterans' Ad Hoc Group meets monthly to plan events that raise public awareness about service-related issues and funds for the Vets Helping Vets emergency assistance program.
Jeff Arcaro, administrative director for the Community Based Outpatient Clinic, told the group that about 1,500 veterans were being provided with primary care by two doctors and their respective teams. He said mental health care was also available at the facility, 704 Veterans Drive.
"It's not a large clinic but it's a really good clinic; I know the vets enjoy having it here," he said.
Wayne Kinney, field representative for Wyden, said Oregon's entire congressional delegation is working to get the clinic named after Loren Kaufman, a native of The Dalles and Korean War veteran. He died in combat at the age of 27 and was posthumously awarded the Medal of Honor for "acts of valor above and beyond the call of duty."
Dallas Swafford, state liaison officer, gave the tour of the veterans' home, which was built in 1997 and located next to the clinic at 700 Veterans Drive. He said there were currently 135 residents and if a veteran has a 70 percent disability rate there is no charge to stay there. The nursing home is open to service members, their spouses and Gold Star parents.
Eiesland met the two buses carrying dignitaries at the Northern Oregon Regional Correctional Facilities. He said deputies have been trained in how to handle situations involving veterans who might be suffering from PTSD (Post Traumatic Stress Disorder) and TBI (Traumatic Brain Injury). Chief Deputy Lane Magill has compiled a packet of resources that is carried in patrol cars for distribution to veterans in crisis.
Runyon asked Huffman, Kinney and Susanna Julber, field representative for Merkley, to look into an issue involving veterans who are incarcerated. He said once these men and women were jailed, their health benefits stopped and that left the county having to pay the costs of their medical care. Following the more than three-hour tour, the group returned to the veterans' service office where Jean Maxwell, volunteer coordinator, had a crew waiting to serve a homemade chili lunch.
"This is an amazingly innovative program with all the volunteers working. We hope that can happen in other counties," said McKeel.