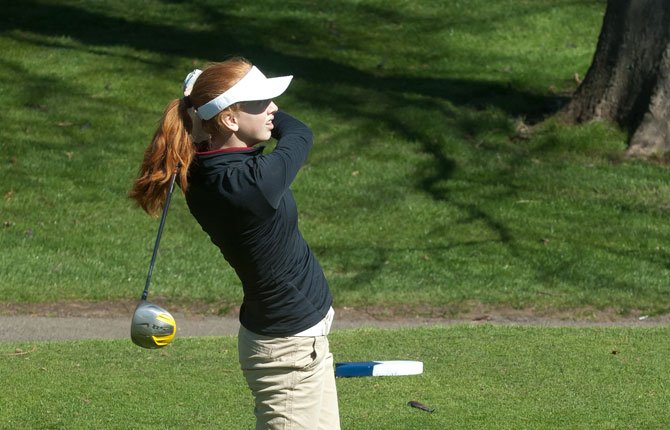 While the rest of the team wound up in the 100s, The Dalles High School freshman Iliana Telles came through with a career-best 77 to place second on the individual standings at the Wildhorse Invitational in Pendleton.
After her opening round of 86, Telles sharpened up her game to the point of cutting down nine critical strokes to end up just five shots behind medalist Hailey Greb of Pendleton, who shot an even-par 72.
"I thought Iliana did a good job on the course today," said Eagle Indian head golf coach Dan Telles. "I think she showed that she has the ability to play well. It is early, so I expect her to keep working on her game to get her scores lower."
Pendleton's Shelby Greb, Hailey's older sister, wound up in third place with a tally of 81.
Madison Welch, of Hermiston, picked up fourth place after her 83, and La Grande standout Kayli Miles turned in a scorecard reading 90.
With the help of the Greb sisters, Pendleton easily secured first place on the team front with a 365.
Columbia River Conference rival Hermiston notched a combined mark of 388 for second place, and The Dalles racked up a 427 to crack the top-3.
"Pendleton is going to be tough to beat with the Greb sisters. They are both very good players," coach Telles said of the level of competition his team will face through the spring schedule. "Hermiston is going to be right there, too. This is a tough league because there are very good golfers. We have try our best to get closer to them as the season goes on."
La Grande (456) captured fourth place and Baker City (493) rounded out the team scores.
Hood River Valley, which only had one golfer, had an incomplete.
After Telles' turn, former state qualifier Elizabeth Peters reeled off a 109 and Jennifer Bonham added a 109 to her records.
Junior newcomer Olivia Starks had a 126 and freshman Rebecca Stiles capped her day of golf with a 156.
"They are making better contact. They need to understand how to make better contact with the ball on their tee shots," coach Telles said. "It is just fundamentals. They are trying to improve. They are trying to get better every day, which is good."
Coach Telles said there is hope that this team can pull it all together in the next month to put themselves in a position to come in contention for a state berth.
It is going to be a big challenge, however, given the youth and inexperience on the team.
Consistency, making better contact and pinpointing their distances are huge key to making those improvements and cutting scores lower.
"It is going to take a while for them to find their strokes, but the key is for them to stick with it," the Eagle Indian coach said. "If they continue to work and try to improve, it's all we can ask for.
Although Iliana Telles is on the cusp on inching ahead for medalist qualification, it is still fresh enough in the season where coach Telles sees some tweaking that could bring down those shot totals even lower.
"She did good. She is in the same boat as the other girls though," the Tribe coach said. "She makes contact, but where she is struggling right now is knowing her distances. We got to find out where our distances are so that we can control it better and gain a little precision."
The Dalles golf team hits the links again at noon Monday for the Seaside Invitational Tournament.
Monday's event will be the third one in a span of seven days. But the team will have nine calendar days off to iron out a few details before participating in the Crook city Invitational at noon on April 23 at Prineville Country Club.