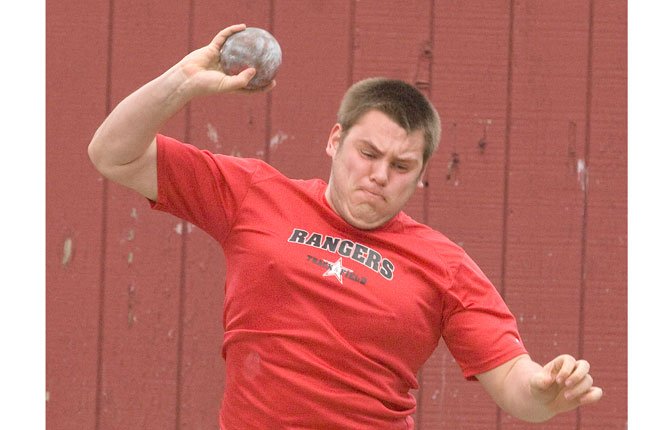 Two of the top-ranked field event athletes from Dufur High School were on full display against some stout competition this past weekend at the Meet of Champions in Salem.
Former state runner-up Taylor Darden put up top numbers in the shotput and discus, while senior state qualifier, Austin Olson, came away with two top-20 outputs in the shotput and discus.
Darden did her best in the discus where she had a toss of 108-feet-10 inches to wrap up third place amongst her peers.
The junior kept her edge in the shotput with a distance of 34-05 moving her up the charts in fourth place.
In four shotput events so far, Darden has reeled off three first-place outcomes in addition to Saturday's fourth.
Friday at the Dick Horyna Invite, Darden set a personal record with a toss of 35-11.50 to put her as the No. 2-ranked thrower in the state behind Prospect senior Kaylee Bando (37-11).
On the discus side, Darden is currently ranked third, just five feet behind her Griswold and Harper competitors.
Olson, who earlier this season set a personal record of 45-1.5 in the shotput at the Mullen-Leavitt Invitational in The Dalles on March 20, had a throw of 40-01.25 at Willamette University to pick up 18th place out of a field of 22.
That shotput distance set by Olson has him ranked No. 1 in the 1A classification with a 1-foot-4.5 inch edge over Mohawk junior Gage Corrigan (best attempt is at 43-7).
The Ranger senior and all-state football player then finished his day in Salem with a distance of 103-07 for 18th place in the discus.
In the state ranks, Olson is cemented at No. 8 in discus with a 113-10, a little more than 11 feet behind Powder Valley's Brock Jones (125-3).
With this latest event giving the Ranger duo a good litmus test on where they stand in the state landscape, they will look to build on those numbers at the River's Edge Invitational at noon Friday in Umatilla.