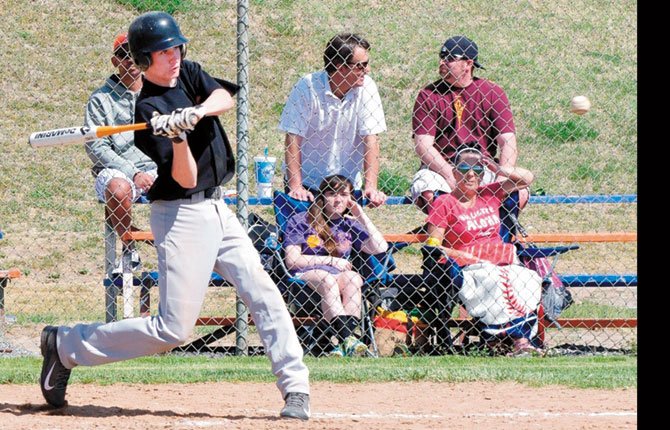 By playing four games in two days, Sherman skipper Joe Justesen knew going into Saturday's doubleheader nightcap versus Umatilla that pitching depth would be critical.
He had already used Ben Holliday, Nick Coleman, Austin Kaseberg, Kyle Fields and Maverick Winslow, so the selection process dwindled.
Not to worry, freshman right-hander Max Martin was ready to take on the challenge.
Martin tossed a complete-game, five-hitter with four strikeouts, as the No. 20-ranked Huskies erased a 5-3 deficit with four runs in the fifth inning and one more in the sixth in a 9-5 victory in the nightcap of Saturday's road doubleheader sweep over 3A Umatilla.
Martin allowed five runs on three hits and four walks in the first two frames, but settled in nicely with five innings of two-hit ball with four strikeouts the rest of the way.
He capped his ace performance by retiring the final eight batters he faced, three of them on strikeouts.
"He and I both know that he is not going to blow it past other teams and strike out 15. He does what he can do and he knows how to pick and pick and pick," Justesen said. "He got down a little early, but he kept going and he battled. He is just a freshman and it is great to see that kind of competitor. He knows how to compete and he knows his abilities. I was happy to see how he did. It was great."
Down 5-3 in the top of the fifth inning, the Huskies gave Martin all the support he would need down the stretch by scoring four runs on three hits and a hit batter.
Alex Fields started the rally with a single and Winslow followed with a double to put runners on second and third.
Nick Coleman then struck out, but reached first base on a passed ball to load the sacks for Kaseberg.
Kaseberg drove in Fields on an RBI fielder's choice to draw the Huskies to within a 5-4 score.
After another RBI groundout by Kyle Fields knotted the score at 5-apiece, Holliday was plunked to load the bases for Wyatt Stutzman.
On a 1-1 count, Coleman raced home on a passed ball and after an overthrow, Kaseberg motored home. Umatilla's catcher then made an errant flip that got away from the pitcher that allowed Holliday to come home safely on a close play at the plate.
Sherman had a single run in the sixth to cap the scoring, and Martin slammed the door shut to preserve the 4-run win and the two-game sweep.
Alex Fields went 3 for 3 with a triple, two runs scored and two RBIs.
Winslow added a 2 for 4 split with a double, and Kaseberg had a hit, an RBI and two runs.
More than the pitching, hitting or defense, Justesen was proudest of the way his team responded when faced with some adversity early in the contest.
"It is an interesting group that has never really played together and we are just learning a lot about each other," Justesen said. "I love seeing what I got here. When we get our backs to the wall, we wake up, start making noise in the dugout and we start backing each other."
In the opening game, Sherman did not have to rely on any comeback efforts, as the squad built a big cushion with seven runs in the first inning and added four more in the second to grab a 13-6 triumph over the Vikings.
Every batter in the order contributed either a hit or an RBI in the seven-run first inning.
Coleman singled to lead off, and Kaseberg chased him home with an RBI triple.
Kyle Fields then plated Kaseberg with a single, and Holliday tacked on another RBI triple scoring Fields to make it 3-0.
Holliday would then later cross the plate on an error.
Stutzman got things going again with a single and a stolen base to set up a golden scoring chance for Kaiden Paulette.
Paulette rifled a single to bring in Stutzman to swell the lead to 5-0. Martin singled, and then Winslow drove in Paulette on an RBI single to left.
Coleman capped the scoring surge with an RBI double to score Martin to make it a 7-0 game.
The Huskies went on to add four runs in the second frame to go out in front 11-0, which was more than enough for starting pitcher Kyle Fields.
The right-hander scattered five hits, walked one and allowed two runs, as he struck out a season-high six to move his record to 2-0 on the year.
Winslow entered in the fourth frame and gave up four runs, two earned on one hit and five walks.
He also fanned six for his efforts.
Winslow, Coleman and Stutzman laced out three hits each, and Alex Fields went 2 for 4 with a run and an RBI.
Winslow and Stutzman had an RBI and two runs scored, while Coleman cashed in two and scored once to pace the 17-hit barrage.
"It hasn't been one person carrying us. It is nice to have 6-7-8-9 kids contributing because now other teams have to account for everybody and not just worry about one player," Justesen said. "I think with the combination of our good contact and speed, we put some pressure on people and it is starting to show."
While it is nice that the young Huskies have jumped out a streak of six wins and a tie in their first seven games, Justesen is looking forward to this week where his group will hit the diamond against a pair of elite teams in No. 8 Heppner (6-1 record, 2-0 league) and No. 2 Dufur (10-2, 2-0).
Justesen added that this team is still in its feeling out phase, but as long as the effort and determination are at a championship level, the rest with sort itself out.
"These next couple of games will test who we are as a team," the coach said. "We will take care of what we can handle and what we are in control of. We cannot worry about what other things are happening. If we take care of ourselves and just play like we can, I think we are going to be OK."
Sherman (6-0-1, 1-0-1 league) traveled to Heppner for league action tonight.
Starting at 11 a.m. Saturday, the Huskies tussle with Dufur for two games.