Iliana Telles finished four shots from medalist honors, and Elizabeth Peters appears to be hitting her stride, as The Dalles girl's golf team amassed a score of 420 to capture the team championship at the Seaside Invitational Tournament Monday at Gearhart Golf Club.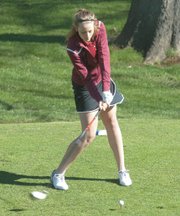 "The girls did fantastic," said TD head coach Dan Telles.
In all, there were six schools present for play, but just four programs had the players necessary for the team standings.
Coach Telles described Gearhart Golf Club as a Links-style golf course – wide open, with barely any trees on the course.

On a day near the coast, the weather was cloudy and overcast with a breeze coming in from the ocean.
Weather conditions aside, The Dalles ended up nine strokes better than Scappoose, which turned in a 429.
Ilwaco had a 433 for third place and host Seaside managed a 448 for fourth place. Astoria and Tillamook only fielded three players apiece and were incomplete in the team scores.
Individually, Seaside's Katy Kawasoe played in the No. 1 group and carded an 82 to inch past TD freshman Iliana Telles, who had an 86.
Ilwaco's Ashlyn Fisher turned in a 95 for third, and the Scappoose duo of Lexi Schlosser (98) and Syrina Revis (101) capped the top-5 players.
Aside from Iliana Telles' 86, Peters dropped even more strokes from her totals, moving forward Monday with a 104.
First-year player, Olivia Starks, a junior, followed up with a 113, and Jennifer Bonham turned a scorecard that read 117.
As a team, the Eagle Indians have shaved 63 shots from the TD Invite on March 18.
With the freshman Telles on the rise and Peters, who had a 125 on March 18, shaving down strokes, the best could be yet to come.
"These girls are improving. They are making better strides so far," Telles added. "They are making better contact. We need to work on our problem solving and we need to learn to adjust to the conditions with better approach shots."
The Dalles hits the links again at noon on Wednesday, April 23 for the for the Crook City Invitational.