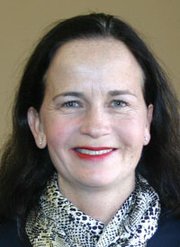 Practicing attorney Bridget Bailey is running for a seat on the Wasco County Board of Commissioners this year, and said she intends to bring her experience working as a small business owner and fourth-generation cherry grower and packer to bring a strong new voice to represent the county.
"I grew up rafting the Deschutes River and getting ready for the Wasco County Fair," she said. "And I've had a lot of experience working within the community to make much-needed improvements in a range of areas."
After graduating from The Dalles High School, Bailey majored in government at Harvard University, before earning her law degree at Lewis and Clark Law School in Portland and going on to work as a white wheat trader and several other agribusiness jobs in both the US and overseas. Upon returning to The Dalles, she studied Spanish, accounting and farm business management at Columbia Gorge Community College.
"In 1991, I worked for a US government contractor to market cherries to the Japanese and had the experience of living and working over there for two years," she said. "While in Tokyo, it was my job as a market representing Northwest produce groups to help apply for grants and plan activities to boost sales."
When asked what made her an ideal candidate for a seat on the county commission, Bailey said, "I really like to solve problems and think outside of the box, and I'm very persistent."
Citing her professional experience working alongside a team of local cherry growers to come up with new ways to make the business better, Bailey said she both researched and implemented a procedure to make cherry harvesting practices more effective.
When asked to elaborate, she said she helped strategize how to make the picker more efficient and increase the quality of the cherries produced by eliminating one hitch in the process.
"The way it used to be done was the pickers would drop the cherries into their crates and pour them into a second bucket before a crew came by to pick up the bucket and poor them into their stores," she said. "Today, what happens instead is the picker just steps out of the tree and pours straight into a bin that's positioned right next to their ladder, which has a great deal less impact on the fruit and is much more efficient for the picker overall."
"It actually took me about seven years to talk the management team into making the change," Bailey laughed. "But now Wasco County picks more cherries for less, so it was definitely worth the effort."
Above all, Bailey said she intends to bring her hard-earned experience as a business leader to the Commission table and use it to advocate for the community.
"What a lot of it really comes down to is accountability," Bailey said. "My competitor is Rod Runyon, who once referred to the budget as 'just a roadmap,' end quote. The problem with that is the current budgeting process is controlled by non-elected officials, and I think the commissioners should have a greater role in defining it. Since it's taxpayers' money they're using, the process should be much more transparent than it is now."
A practicing attorney since 1997, Bailey served as a temporary prosecutor for the City of The Dalles. Now, she runs a private practice office on Fourth Street.
Bailey said she considered it important to note that her husband, District Attorney Eric Nisley, "is an elected state officer who does not report to the commissioners, and that as a commissioner, if there was even the slightest perception of conflict during the budgeting process, I would immediately abstain."
Among those county issues she would most like to have addressed, Bailey named the county's lingering water issues, making specific reference to Mosier's faulty wells, as well as to further facilitate projects that have the potential to increase the area's opportunities for growth and improvement.
"What really needs to be done," Bailey said, "is for someone to take action. We need to increase accessibility to services as well as overall efficiency; I feel that I can balance the board of commissioners better and draw on my agricultural background to bring a lot of valuable experience and know-how to the town and county as a whole."