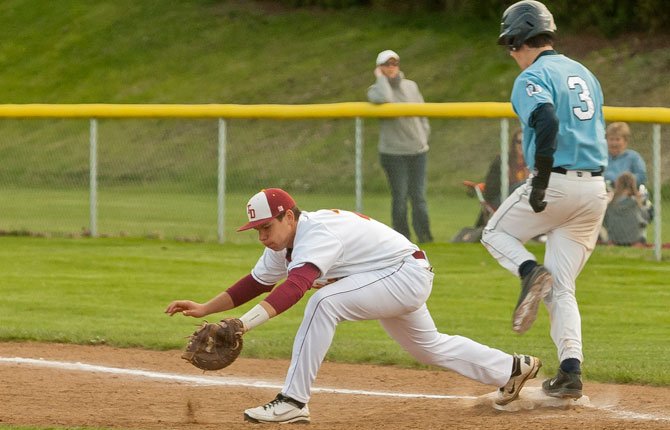 There was extra emphasis on Tuesday's non-league baseball battle between No. 4 The Dalles and No. 7 Corvallis.
The last time these two teams faced off, it was Corvallis moving on an extra round in the state playoffs after a 2-1 triumph at Quinton Street Ballpark.
Although not of the same magnitude, the Eagle Indians exacted a bit of revenge using a four-run sixth inning to break open a 1-1 tie on their way to a 5-1 win.
"This is our rivalry game," said senior outfielder and pitcher Austin Wilson. "We last played them in the first round of the state playoffs, so both teams came in today wanting to beat each other. It was a good game. We stuck through it, hit the ball, pitched good, played good in the field and did everything we had to do to win."
In the crucial sixth frame, the Tribe had the bottom of the order coming up against Corvallis ace Dylan Miller.
Zach Cantrell got things cooking with a single to center. One out later, Zachary Keimig laced an RBI double down the left field line to the wall to bring in Cantrell to move TD in front by a 2-1 score.
With Keimig at second base, No. 9 hitter, Gordy Harris, blooped a single to short left to put runners on the corners for senior shortstop Steven Bartells.
Facing a draw-in infield, Bartells grounded a 1-1 pitch to Isaac Kulonis at shortstop. By the time he recovered the ball, Bartells was safe at first and Keimig crossed the dish safely to run the tally to 3-1.
With Colin Noonan at the plate, Harris swiped third base to make it first and third with just one out.
Two pitches later, Bartells stole second base to give Noonan a solid RBI chance with runners in scoring position.
On the next pitch from Miller, Noonan roped an RBI single to left field to drive in Harris to swell the lead out to 4-1.
On the throw home, the ball thrown by the Corvallis left fielder got away from the third baseman, pitcher and catcher, all the way to the backstop allowing Bartells an opportunity to motor home without a play.
The Eagle Indians held a four-run lead and starting pitcher Colton Walker was three outs away from a complete-game.
Walker retired the first two batters he faced on flyouts, and the sophomore then worked a full count before painting the outside edge on Zach Humphreys for the game-ending strikeout.
Corvallis laced out three hits, received two walks and had two hitters plunked, but stranded seven, five in scoring spots.
"He did a great job tonight," Bartells said of Walker's ace effort. "The defense behind played well. As long as he keeps throwing strikes, we have the defense behind him to give him support."
Although he faced some ebbs and flows in this contest, facing adversity with runners on base, Walker gutted his way out of jams to keep his team in contention.
Walker admitted that he pondered the moment in the dugout before the rally.
A deep breath and a boost of confidence gave him the push needed to overcome control issues.
"The team was doing their part out there fielding balls and making plays, so I needed to do my part and throw some strikes," said Walker, who moved his earned run average to 1.58 in picking up his team-high fourth win of the season. "It was kind of a deep breath that settled me down and helped me get more at ease. I did a lot better when I pitched with a concentrated mind."
Bartells, Noonan and Keimig had two hits apiece to pace TD's 11-hit attack.
Noonan drove in two runs, Bartells scored twice, Wilson had an RBI, Harris scored a run and the team went 3 for 4 on stolen base attempts.
Staked to one of the better starts in program history, with an 11-2 record and a No. 4 ranking, the Eagle Indians have made it a point to shrug off the preseason in order to focus on the task of defending their Columbia River Conference championship.
Beating a top-10 team that dropped them from playoff contention is exactly the springboard needed to get the job done.
"This game showed us that we can compete with any team out there," Wilson said. "We are a top-caliber team that can hopefully play all the way through until June 7. It is good going into league with an 11-2 record. We are just confident enough to know that we have the ability to take the league down again for the second year in a row."
TD travels to take on No. 23 Hermiston (5-9) for a league doubleheader starting at noon Saturday.