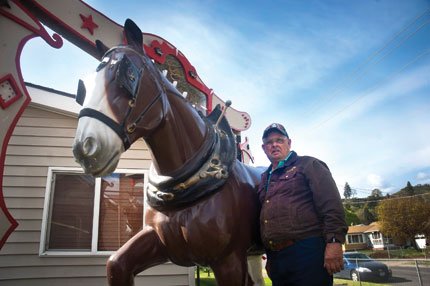 No mere garden gnome or pink flamingo will do for yard décor at Mike Laskowski's house.
No, he's the one who lives at 12th and G streets, and that's his huge plastic Budweiser draft horse proudly displayed on a concrete pedestal, beneath a 12-foot frame, and spotlight every night.
Laskowski, a retired diesel mechanic who moved here eight years ago from Portland, likes to tinker. And he likes to take drives.
One such drive took him to Wishram, where one day three or four years ago, he spotted the Budweiser horse stowed next to a building. A buddy of his from Moro ended up buying the Budweiser horse — reputedly once belonging to a Seattle Budweiser distributorship.
He told his buddy he'd like to buy it from him if he ever thought of selling, and his friend did decide to sell — making a bit of a profit on the deal.
Laskowski is mum on exactly what he paid for his amped up yard art, but will admit it was "a fair amount."
He spent maybe a month or two getting the horse ready for its new home. He built the concrete and brick pedestal, installed two floodlights in the yard to illuminate the horse, and built the 12-foot-plus frame to go on top of and on either side of the horse.
Centered in the top of the frame, safely behind plexiglass, is a neon Budweiser sign, which happens to not be operational at the moment.
Probing Laskowski for the reasons behind his unusual display doesn't yield much. He just wanted it in his yard because it was "a little different."
He's not even into Budwesier beer. He's a Hamm's man, and that's why he has the Hamm's Bear on the other corner of his house. That little find came from Dallesport, where he found it at an old grocery store.
He also built a pedestal, frame and spotlight for the Hamm's Bear, which is holding a serving platter with two beers on it. The frame above his head has a mountain range in it, with a fireball coming in out of the sky.
Laskowski just wanted to add the fireball for fun.
His construction projects aren't limited to iconic beer symbols. He's built a race car, a Model T, and two large shops, including one he's owned in Moro for 15 years. He's also a hunter who's taken three trips to Africa.
As for the designs of the frames he's put on his horse and bear, he just comes up with them, he says. "It just came to my mind. I just did it," he said of the Budweiser frame, which is decorated with stars and filigrees.
He put the Budweiser horse up on the pedestal to discourage anybody from trying to hop on the nearly lifesize horse. He's never gotten on the horse himself, and neither has anybody else, though a few passersby have asked. "It's too slippery," he said.
He did repaint the horse, with cans of quality spray paint, and he's still got some touchups to do. "You can't see it from the street, but it bugs me," he said of some imperfections in the horse's collar.
The horse and bear have never been vandalized – both are solidly bolted into concrete and even the famous gorge winds don't rustle them even a tiny bit — and Laskowski said the feedback he's gotten is uniformly positive.
Well, his wife wasn't too thrilled at first, he said, "but she's OK with it now."
And, given that it's such a prominent addition to his yard, Laskowski said he'd honestly been expecting an inquiry from the newspaper and wondered why it hadn't happened sooner.