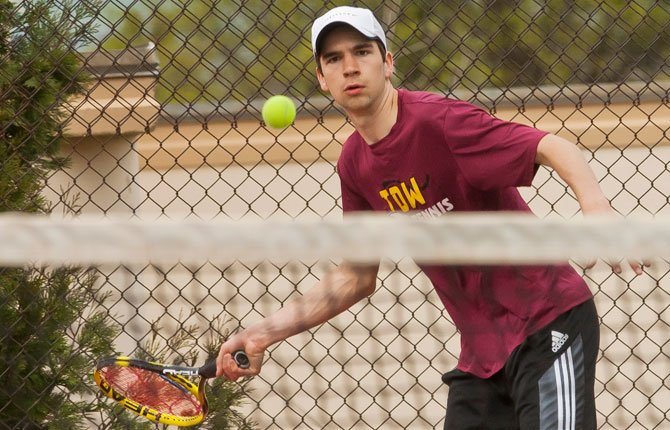 The Dalles boy's tennis team squared away three of four singles wins, but wound up being blanked in four doubles matches in a 5-3 loss to Hood River Valley Tuesday in league action in Hood River.
The lone scratch on the singles card came at No. 1, where Hood River's state qualifier, Scottie Ziegner, gave the Eagles a hot start with a 6-1, 6-1 winner over Griffin Martin.
After that, the rackets of Cole McDowell, Christian Munoz and Antonio Argueta put together a hot streak.
McDowell dropped Cooper Holzman by tallies of 6-4, 6-1 at No. 2, and then Munoz pulled through for a dominant effort against Marty Sova, cruising to marks of 6-1, 6-1.
"Cole and Christian really demonstrated a top level of tennis," said Tribe head coach Andrew Hughes. "You see stuff that they have been working on. I think both of them served really well and were great at the net. Watching those two play, you could see a lot of improvement and growth in their games. I thought both of those guys played really smart."
Argueta rebounded from a 6-1 opening-set loss to get back to his winning trend with outputs of 6-2 and 6-1 to grab a three-set triumph over Alden Sova.
"He got down in the first set, but is so athletic that he was able to outlast his opponent," Hughes said. "Once he started hitting consistently, he took control of that match."
Hood River posted a clean sweep in doubles play with an average margin of victory of 4.1 points per set.
TD's No. 1 doubles team of William Coy and Daniel Santillan lost 6-0, 6-1, and at No. 2, Daniel Spurr and Jesus Barajas were upended by scores of 6-3, 7-5 to the team of Will Ferrera and Vic Garbo.
The Hood River duo of Miguel De La Rosa and Brandon Campos cruised to marks of 6-0 and 6-1 over The Dalles' Caleb Turner and Cody McClintock in a No. 3 match.
Rounding out the doubles slate, Mason McDowell and Jorge Calderon came away with a 6-4, 6-2 victory in their No. 4 contest versus Ryan DeHart and Luis Diaz.
Even with the losses, Hughes sees a silver lining with his young doubles.
"We are still inexperienced on our doubles team," Hughes said. "We are still working on their game, but there are still some weaknesses that arise in match play. I still saw some real improvement, but we still need to see some improvement from our doubles if we are going to compete in these head-to-head team matches."
Due to parent-teacher conferences, TD hosts Pendleton at 4 p.m. on Friday in a re-scheduled match.