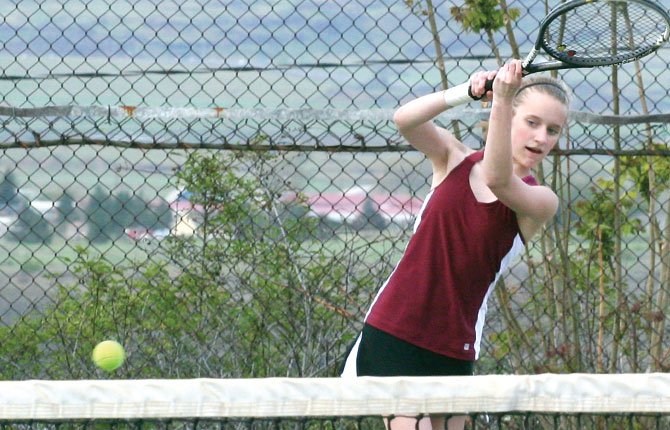 The Dalles head coach Debby Jones has been expressing feelings of optimism when speaking about her varsity team and their limitless potential as the season wears on.
Tuesday's league victory over Hood River Valley could be just the start of this group achieving its goals.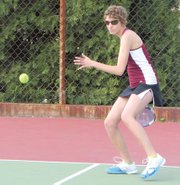 Anna Miller, Robin Pashek and MJ Murillo secured singles wins, and the doubles team of Johanna Wilson and Kiana Pielli headlined a three-win doubles slate to lead the Eagle Indians to their first league win in three years in a 6-2 triumph over cross-town rivals, Hood River Valley, in a match played at The Dalles High School.
"It was nice coming against our close rivals Hood River," Jones said. "The girls really wanted this one. I'm very pleased with how they want to compete individually, but they want the entire team to succeed. They are always asking, 'how are we looking overall?'
In addition to facing some stiff competition in the Eagles, the Tribe tennis team had to work through the strong winds and gusts to get some winning shots.
Miller got the winning trend created quickly in her No. 1 singles tussle versus Maddie Graham.
The Tribe standout played in a highly contested match with Graham without either player giving an inch.
When the final shots hit the end lines, Miller came away with scores of 7-5 and 7-5 to outlast her HRV opponent.
Pashek had another close duel against Miranda Starr at No. 2, with the TD player working splits of 6-4 and 7-5 to hold a win.
At No. 3, Murillo won her opening set by a 7-5 margin to take control, and finally put Vanessa Oliva away in the second set by a 6-1 score to make it three singles victories in a row.
"I was very pleased with the 'thinking' aspects of their wins," Jones said of Miller, Pashek and Murillo. "The wind did not allow anyone to play their normal game, so it was a matter of changing things up or continuing to let the wind and their opponents win."
Leslie Luna-Lopez played an inspired No. 4 singles match, with her best performance of the 2014 campaign – a three-set marathon.
Luna-Lopez won her opening game over HRV's Annelis Acosta by a 6-4 margin, but Acosta battled back to even things up on the heels of a 6-2 win.
The third set went to the limit, but Acosta came away with the final two points to tally a 12-10 output.
"Though Leslie lost at fourth singles in a heartbreaker in the third set tiebreaker, I thought this was by far her best match of the season," Jones said. "Leslie really stepped up her game and even though a loss was recorded, I definitely think this is a turning point in her high school tennis career."
Wilson and Pielli started the run of three singles wins in a row in their showdown with the Hood River Valley duo of Webb and Greenwold.
The Eagle Indian tandem motored through for rallies of 6-3 and 6-3 for a straight-sets triumph.
Jones said that Wilson and Pielli showed her they could do what they were not able to accomplish last week in Hermiston when they had the opportunity to close out a match.

"The girls were up 5-3 in the second set and all three of us looked at each other and thought the same thing – 'what did we learn from that loss?' Jones said. "They buckled down and really focused and picked up the next game to close out the match. That is really what we are about right now – a young team hungry to learn from every match."
Abbey Minnick and Emma Ell-Smith kept the momentum going in their No. 2 doubles match, putting them on the right track over Semmas and Chambus.
It was quite the effort from Minnick and Ell-Smith, who started behind by a 4-1 score in the first set.
Down by three at that point, Jones said she offered some words of inspiration to wake up her duo for a rebound performance.
They responded in a major way by amassing the next five set points for the 6-4 win, before completing the surge in the second game, 7-5.
Brittany Watkins and Rebekah Kohltfarber secured the final doubles decision in a match versus Evans and Kohn, moving ahead by marks of 6-1 and 6-4.
Rounding out the doubles slate, Diana Fernandez and Cassie Vazquez played three hard-hitting sets as the Hood River team of Kohler and Adrianna started out with a 6-2 win in the first set.
Fernandez and Vazquez battled back in the second set to even things up at 1-apiece, grabbing a 6-3 triumph to set up a decisive third game.
In the finale, the Hood River tandem found a second wind to pick up a 10-6 victory.
"Fernandez and Vazquez had a tougher go of it, but still managed to hang tough and narrowly lose in a third set tie-breaker," Jones said.

After tonight's road match in Pendleton, the Tribe hosts Hermiston at 4 p.m. Wednesday.