Never call an accountant a credit to his profession; a good accountant is a debit to his profession.
— Charles Lyell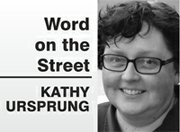 A debit for sure: Ben Neumayer of Friend and Reagan PC wrapped up his 40th income tax season April 15 and decided that would also be a good time to wrap up his accounting career.
Neumayer officially announced his retirement to the Friend and Reagan staff last night.
Neumayer came to The Dalles in October 1976 to take a staff accountant position in with Bailey, Clark and Byers. "I had earned by California CPA certification earlier that year and we were delighted to be returning to Oregon after nearly five years in the San Bernardino/Riverside area," Neumayer said, adding, "The Dalles has been a great place to live, work and raise our family. Arlene and I expect to do more traveling and spending time with our children and grandchildren, but The Dalles will remain our home base."
I'll be talking more with Neumayer soon about his four decades on the job for an upcoming story.
A cherry of a season: The 35th annual Northwest Cherry Festival is right around the corner April 24, and local businesses have plenty of ways to become involved. Applications are available at The Dalles Area Chamber of Commerce for a variety of activities.
Show your community spirit by fielding a team for the Cherry MARVEL-ous Lip Sync Contest April 24 at 7 p.m., adding a float or vehicle in the Northwest Cherry Festival Parade April 26 rolling at 10 a.m., producing your best cherry dessert for The Dalles Main Street's Cherry Dessert Bake Off and fundraiser.
Individually, the Cherry Festival Walk/Run is one way to work out the kinks after a long week at the office and get ready for the other Cherry Festival events later in the day. Or break out that motorcycle for a good cause and ride in ABATE's Teddy Bear Parade, which precedes the larger parade. The bears are donated to Mid-Columbia Medical Center to sooth children.
For a comprehensive look at what's going on this year at the Cherry Festival, find The Chronicle's special section in the Sunday, April 20 issue.
Ask the senator: Sen. Bill Hansell of Oregon District 29 will be the speaker at this week's Government Affairs Committee, April 17, from 7 to 8 a.m. at The Barbecue Restaurant in The Dalles.
Hansell is serving his first term in the state legislature, representing parts of seven counties in northeastern Oregon. He also served for eight consecutive terms as a Umatilla County commissioner. During that time, he was president of the National Association of Counties, Association of Oregon Counties, chair of the Oregon State Weed board, chair of the Umatilla Army Depot Reuse Authority, among many other responsibilities.
Does your business have a new development that you want the public to know about? Or have you noticed something interesting going on at a local business — or who deserves a pat on the back? Submit the information to Word on the Street by email at kursprung@thedalleschronicle, or by phone at 541-506-4601. Feel free to leave a message, if needed.