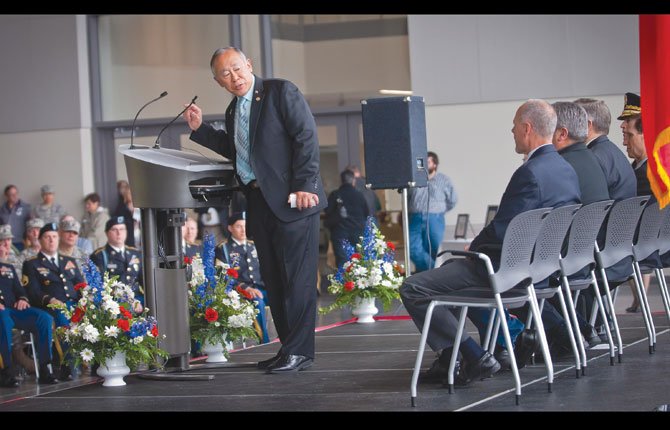 Collaboration and vision were recurring themes in speeches at the April 17 dedication ceremony for the Oregon National Guard's Fort Dalles Readiness Center.
The new, almost 63,000-square-foot structure, built in a partnership with Columbia Gorge Community College, also bears the name CGCC Workforce Center. It will be home to the college's Renewable Energy Technology program, which has already graduated 450 people and helped place 85 percent of those people in jobs.
Facing a stormy view beyond the drill hall's two-story glass wall, several hundred people attended the ceremony, complete with military pomp and circumstance.
"It's one of the nicest facilities of its kind in the entire country," said Major Gen. Daniel Hokanson, Oregon's adjutant general, noting that there are 34 readiness centers in Oregon and 3,300 in the nation.
"I look forward to the readiness center and the soldiers associated with it continuing the tradition of being an important part of this community," Hokanson said.
U.S. Senators Ron Wyden and Jeff Merkley (both D-Ore.) were part of the official party, along with Oregon Sen. Ted Ferrioli (R-John Day) and Rep. John Huffman (R-The Dalles), and Dr. Frank Toda, president of the college.
U.S. Rep. Greg Walden, currently visiting Afghanistan, sent a delegate to share comments about the facility that Walden earlier read into the Congressional Record. Gov. John Kitzhaber sent a letter in lieu of attendance.
Both state and federal sources provided substantial funding for construction of the building.
"This is a very good example of what an armory should be like," said Wyden, later adding, "It's hard to fight a modern war if you don't have modern training, modern weapons and modern facilities."
He also called it "a textbook example of how to bring together military facilities and community colleges."
Merkley noted that the building had been in process for more than 15 years.
"As we are drawing down our overseas presence, the military will be stronger, so we need to double down on investing in the National Guard," he said.
Merkley also noted the building's "green" energy profile, featuring a sod roof, solar panels and a heat pump, which he said may result in zero net energy use.
Toda rounded out the speakers for the day, delivering thanks to many of the people involved in what he described as an "incredible journey" of developing the readiness center. He particularly singled out Les Cochenour, former The Dalles mayor and retired National Guard officer, for his "persistence and vision" in keeping the need for a new Guard facility alive through the years.
"I wasn't here in town more than five minutes in July 2001 when Les pulled me aside and said, 'Let's talk about dreams, the future and possibility.'"
The event culminated in a military-grade ribbon cutting involving around 20 people, followed by the cutting of the celebratory cake with a ceremonial saber.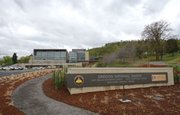 The 62,689-square-foot structure was built on 7.4 acres on the east side of the college campus, with 13,087 square feet of space on the lower level reserved solely for college use. Another 27,279 square feet will be shared on the main floor, including the 10,000-square-foot lecture hall, where the dedication took place, that also serves as a Guard drill floor.
An industrial shop of 5,000 square feet is also shared, providing 3,000 square feet for 12 student welding labs and a 2,000-square-foot maintenance bay for Guard vehicles.
The college was able to infuse $8 million in state funds into the readiness center after Huffman and Rep. Mark Johnson (R-Hood River) convinced the Department of Community College and Workforce Development that about $20 million in federal funding could legally serve as a match for those dollars.
Hoffman Construction Company of Portland served as general contractor on the project. TVA Architects of Portland designed it.
Toda calls the facility the "Lantern on the Hill."
Both local economic development and state military officials expect the building's facilities to draw people from all over the country to The Dalles.