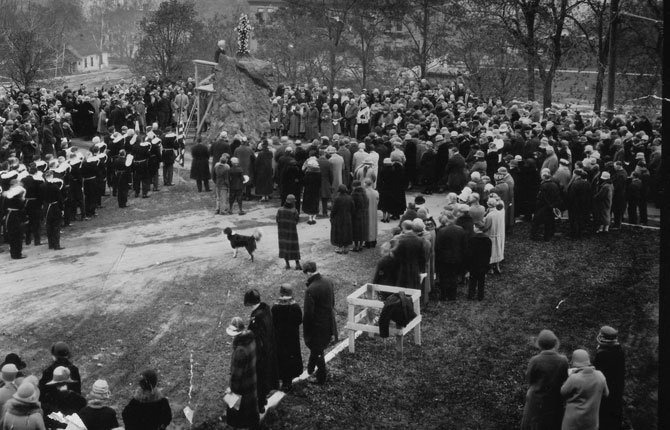 The 90th annual Pulpit Rock Easter sunrise service is set for Sunday, April 20, at 6:30 a.m.
Donnamae Grannemann and Bill Johnson, who both have roles in this year's service, remember attending the service as a child.
In fact, Grannemann's own mother, Mildred Reynolds Craber, was at the first Easter sunrise service at Pulpit Rock, back in 1924.
"During the first few years, 30 minutes to an hour prior to the service, the boys from the high school band, who played trumpets, rode on the back of a convertible with the top down and played "reveille" all over town to remind citizens of the sunrise service," Grannemann said.
Those days are long gone, but the service still happens, and a trumpeter, student Joe Chrisman, will still perform.
Chairs are provided for the approximately 45-minute service, which draws around 100 people in well-attended years.
Grannemann is giving the welcome and Rebecca Evans from Zion Lutheran will give the opening words and prayer.
Johnson will talk about the significance of Pulpit Rock, which was used by early missionaries to proselytize to area Native Americans and local settlers. Pulpit Rock itself bears an inscription stating their work began in 1838. Missionaries are credited with ceasing hostilities from Native Americans toward settlers.
Johnson said, "I'll always remember 1943. We lived on 13th Street." He recounted seeing about six girls in the back of a truck driving around, blowing bugles. "Between Bill Wagenblast blowing his horn and the girls blowing their bugles, they woke up the whole town."
If that happened now, Johnson joked, "9-1-1 would light up."
He also remembers the Knights of Templar, members of a Masonic order, who would show up in "their hats, big fluffy hats, I still remember that. There was a lot of them. There was a crowd."
For the Easter Service, a wooden cross adorned with flowers is mounted on Pulpit Rock.
"The sunrise service for many years actually began at sunrise. This was still occurring when I was a child as well. Later on, the time was set for 6:30 a.m., thus making it easier for worshippers to arrive at the correct time."
For example, in 1962, the service started at 5:15 a.m.
Back in her youth, Grannemann said, "Everyone stood, no chairs were provided." Now, chairs are provided.
"Although tradition was to wear new clothes on Easter, many didn't have Easter finery on at that early hour because it was often too cold," she said.
She recalls wearing her new Easter dress, hat, new shoes and gloves anyway, but with a coat for warmth.
The service is a joint production of The Mid-Columbia Fellowship of Churches and The Dalles masonic orders. This is the second year the Fellowship of Churches has partnered with the Masons to host the service.
"We do the program and they help with the setup," Grannemann said.
The service includes four songs, a scripture reading by Drew Frisbie, pastoral Intern at First United Methodist Church and the message, "The Truth of the Resurrection," will be given by Rev. Fred Sheldon, pastor at Life Line Baptist Church.
Easter clipboards with worksheets, pencils crayons and treats will be available for children.