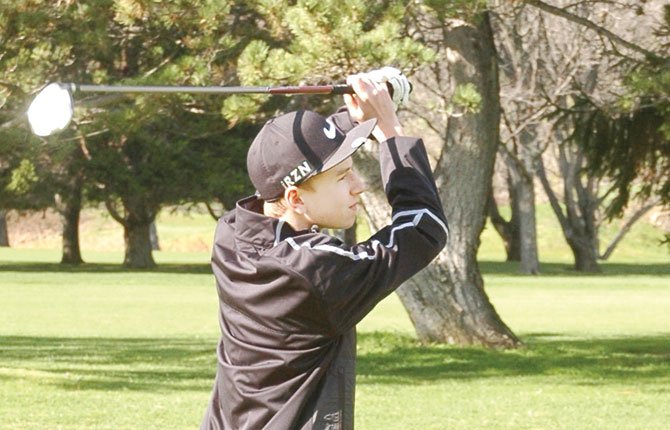 The Dalles head coach Kent Smith has seen a lot in his more than two decades at the helm, and Thursday in Pendleton, the boy's golf team added a few more memorable moments to the highlight reel with a tie for fourth place in the team standings against a field of 10 at the Pendleton Invitational Open at Pendleton Country Club.
For the first time in 25 years, the Eagle Indian team had all five of their golfers shoot in the 80s, and the group shot its lowest total in several years, finishing with a 336.
"To me, that is quite an achievement for them," Smith said of the overall score. "In general, I would say that part of this is attributed to the guys starting to listen a little bit."
Pacing the Tribe was freshman Chase Snodgrass, who turned in a scorecard of 80, a personal best.
"I think he was ninth overall," Smith said of Snodgrass. "He had a good chance. He did miss a putt or two, that if he would have sunk them, he would been in the 70s and that would have been a huge accomplishment for him. I think he will get there soon enough."
Bailey Ortega and Coby Conlee each wound up with 85s, Nick Glesener tallied an 86 and Mark Felderman hit his high mark with his 88.
"To a person, they all agreed that they could have easily saved a couple of strokes per man, so they know that there is an ability to get the scores even lower," Smith said.
Led by the fifth-place 77 put up by Riley Hagerty, Pendleton picked up first place in the team standings with a 322, three strokes better than Hanford, Wash., who had a 75 from Thomas Hannu as the lead.
Hermiston (334), The Dalles (336) and Richland, Wash. (336) capped the top-4. Kamiakin, Wash. (342), Baker City (343), Mac-Hi (357), La Grande (381) and Hood River Valley (422) rounded out the rest of the team scores.
Richland's Quinton Parnell earned medalist honors on the day with his even-par 72.
Hood River Valley standout and former TD athlete, Dan Kuechmann, and Kamiakin's Bolton Eavenhauer, ended up tied for second place with a 74.
There are many reasons why the Eagle Indians have been on an upward climb at this point in the season.
Smith said this team learns from its mistakes, using hours on the practice course to hone in on some issues and wants to play better as a whole to help the team.
It is about executing the fundamentals down the stretch that could propel this group into state consideration.
"We have spent some time on course management such as the clubs they would use and their placement of shots, so that they put themselves in a better position to make their chips and putts," Smith added. "We still got work to do, there is no question about it. As I said, they are starting to listen and work at doing the things that we are asking them to do."
TD next heads to Bend for a 16-team tournament at 10 a.m. Monday at Tetherow Golf Course.