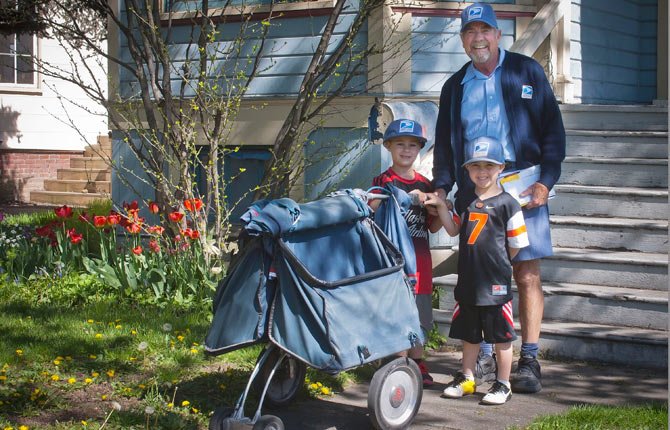 After almost 28 years delivering the day's ration of letters and parcels in The Dalles, veteran mail carrier Dave Miller says he's decided to exchange his daily route for retirement life and "who knows what else!"
During his years as a postman, he says community members have become more like friends than customers.
"I've had the downtown route for the last 18 years," Miller said. "Ten years before that, I did other residential routes around town. This one's 10 miles a day, and most of my customers just catch me in one little window of it."
On a typical day, Miller said he delivers to about 300 businesses, usually pausing for a minute or two to chat with the owners or whoever happens to be about while he's making his rounds.
"I'm definitely a people person, and while some probably wish I would talk a bit less," he laughed, "it's just not in my DNA."
When asked if he could debunk the classic dog-chasing-the-mailman scenario, Miller said the stereotype was actually pretty accurate.
"It's considerably more dangerous, physically taxing work than a lot of people might expect," he said. "I've never experienced a very serious attack, but I know others that have taken months to recover from a bite."
The only dog attack Miller said he'd personally experienced was one which occurred at the jaws of a particularly ferocious and territorial Chihuahua.
"It was one of the most embarrassing things," he said, covering his eyes, "because, as it turns out, the lady couldn't afford the 85 bucks it would have taken to get her dog back, so she brought the case to court, where I had to get up and explain this 'vicious' dog attack. Looking back, I guess the entire situation was pretty hilarious."
Growing up in South Wasco County, Miller said his grandfather was a postmaster in Maupin through the 40s and well into the early 50s.
"My great grandparents even homesteaded out there, too. When I was in school, I was related to just about everyone to the point that it even made it a bit hard to find a date," he laughed. "While at the time I didn't think I was going to become a postman, I've always taken some pride in that piece of family history since I started working as a carrier."
Following high school, Miller said he enlisted in the army and was stationed in Germany from 1969-72 and didn't make his start in the postal business until he was 36 years old.
"In between, I worked a lot in lumber. But, after about 12 or 15 years of doing that, the industry really dried up, so making the switch ended up being a good move and I feel very fortunate."
Miller said he was actually born in what is now the Medical Arts Building and formerly the old hospital. Despite the name, it now is mostly office space.
"There's been lots of changes to the town since then," he said. "It's a very old, historic city. After I was born, I was brought back out to Juniper Flat and my parents started running the Rainbow Café in Maupin. Coming to The Dalles as a child was not an everyday thing back then, by any means. These days, people commute back and forth all the time, but then," he laughed, "The Dalles seemed like a very big city to me."
Celebrating his impending retirement on Saturday, April 12, at Zimm's Brauhaus, Miller said it was "surreal" to see so many of the familiar faces from his route gathered all together in one place.
"Usually when you're out and about, you see people," he said. "Some you recognize, some you don't, but this — this was different. The place was completely packed and as I looked around, I realized I knew every single person in the room. Basically, it's the kind of thing that probably won't happen again until my funeral, and then I probably won't be getting as many hugs," he grinned. "It was a great time."
"I think one of the things about our small town post office that people who move here from bigger cities don't really understand is how many people will still end up getting their mail around here even if it's not addressed properly," he said. "After a while, people find out their carrier actually knows them and they'll get mail that might otherwise be marked 'return to sender.'
"A couple of years ago on Christmas Eve, for example, I got a package addressed to an attorney's office that was closed and knew it was probably meant to be someone's Christmas present. So, since I was familiar with the people who were supposed to get the package, I was able to make sure it got to them and, as it turned out, it was a really important gift that the family had almost given up on receiving in time. That's the kind of thing that makes you feel good as a person, and not just a letter carrier."
"I don't want to get too sentimental, though," he said, smiling and shaking his head. "I've just been feeling really fortunate to have had this job. And, while it has been a job, it's also been a way of life for all these years. It's gonna be different and I'm definitely gonna miss some things, but it really all comes down to the people, for me. If you don't like people, this is the wrong business for you," he said. "Because I've really seen it all—from the good to the irate to the really angry and the really happy; you give them what they want and they're bouncing off the walls, you come up short somehow and they will let you know it.
"I've used many thank you's and apologies throughout my life, and I've learned how to manage people so much better than when I first started as a carrier. When you're dealing with thousands of letters a day, you're guaranteed to make a mistake. At first, it was always so embarrassing, but now I've learned to just apologize. There's nothing like a good apology to get people to understand that I'm just Dave — a human goofball. So, I started being less embarrassed by my mistakes and came to realize it's just part of the job. The fact that the people I see every day really know me; that's what I think really makes it all work."
Miller says he supposes he'll just have to "wait and see" how retirement suits him, but so long as he feels he can keep his life active and busy, he expects to enjoy the extra time he'll have to spend at home and with his family.
"It's funny how life moves on," he said. "It's been a lot of years, and so much has changed from when I first started, but then — that's just the nature of things. Either way, I'm grateful for how it's all turned out."