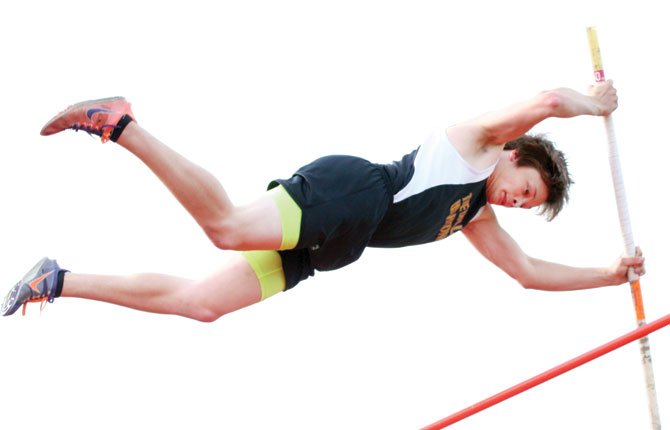 Just at the midway point of its 12-event spring slate, The Dalles track and field team has come out with consistent performances on the road and at home.
Friday, at the 26th annual Wilson Invitational on the campus of Wilson High School in Portland, the Eagle Indians amassed 12 top-2 finishes, including four wins, as each team chalked up fourth place in the overall standings.
On the girl's side, senior Emily Bailey slugged out her third consecutive win in the 800 meters with a time of two minutes and 30.12 seconds.
Junior Katie Conklin also took a dip in the first-place pool with a top effort at 100-meter hurdles. Conklin rocketed home in an impressive 17.06, just .15 off her personal record.
Conklin tacked on second place outputs in the high jump and triple jump for her full event listing.
In the high jump, the junior soared to a height of 4-feet-10 inches, and she hit the dirt at 33-01.5 in the triple jump.
As much as Bailey and Conklin have raised their status, junior Yasmin Hill had a solid afternoon by taking second place in the pole vault and long jump.
Hill rose to an 8-6 in the pole vault, and she leapt to a distance of 15-9 in the long jump.
Liz Tunai threw her way to third place in discus with a toss of 92-08, a personal record of more than a foot.
In the distance races, Maddie Wood and Emily Morin secured fourth and fifth place, respectively.
Wood had a marker of 5:26.64 in the 1,500-meters, and she picked up an 11:41.5 in the 3,000.
Not only did Morin post top-5 efforts, she tacked on season's best times in the 1,500 (5:26.82) and 3,000 (11:45.2).
Morin made her biggest jump in the 3,000, where on April 4, she had a time of 12:09.40, but dipped below 24 seconds yesterday in Portland.
On March 20 at the Mullen-Leavitt, Morin had a time in the 1,500 of 5:40.96, but she shattered that mark by more than 14 seconds.
With those times and places, the Eagle Indian girls totaled 81 points to grab fourth place in the five-team field.
Wilson (173), Cleveland (164) and Union (118) made up the top-3 teams.
Union came away with first place in the boys standings with 173.33 points, and Cleveland had 154.33 to take hold of second place.
Wilson (109.33), The Dalles (80) and Jefferson (24) capped the final standings.
With a pair of first place ribbons for his attempt in both hurdle events, Zach Nerdin looks to be state form already.
Friday, Nerdin dropped a personal-record time of 42.59 in the 300-meter hurdles, and the senior crossed the tape in 16.31 for tops in the 110-meter hurdles.
Fellow senior, Harris Farr, could not be contained Friday, as he set a new personal record in the high jump (6-4).
He also tallied his season-best in the long jump (22-feet), to earn second place in each event.
Mark Johnson also rattled off a personal record on the afternoon in the pole vault, where he soared to a height of 12-6 to record second place.
Perennial state qualifier, Lio Tunai had a good day at the office, with a toss of 51-3 for second place in the shotput.
In his last four tries, Tunai has steadily progressed after throwing a season-best 52-7 at the Mullen-Leavitt on March 20.
After that, Tunai had distances of 49-3, 49-6.25, and 49-11 and then Friday's 51-3, so his star continues to rise at the midway point.
Joey Duong tallied fourth in discus with a toss of 125-09, Sant Strassheim had a long jump distance of 19-02, and Farr notched third place in the 200-meters with a personal-best final reading of 24.19.
Elijah Kohltfarber hustled his way to fifth place in the 1,500-meters with a season-best 4:35.37, a mark that is just 11 seconds from his personal record.
Up next, the Eagle Indians head out to Hermiston for the 29th running of the Kiwanis Invitational starting at 10 a.m. Saturday, April 26.