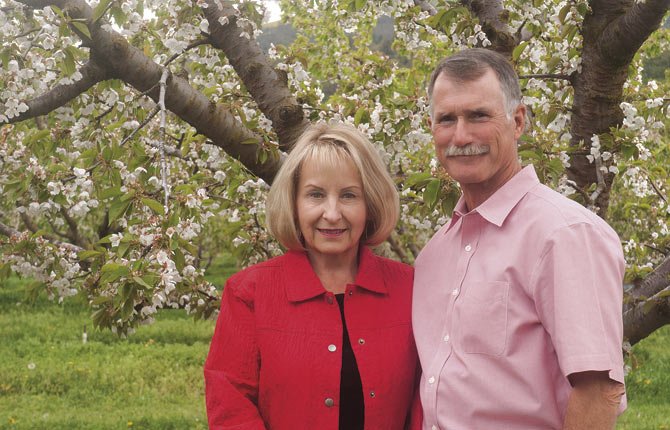 Kay and Dan Ericksen are the second generation of the Ericksen family to be recognized by their industry peers as King Bing and Queen Anne for the Northwest Cherry Festival.
Dan's parents Walter and Marilyn Ericksen wore the crowns for the 1997 Cherry Festival.

Dan and Kay have followed in their elders' footsteps, establishing their own orchards around The Dalles. High school sweethearts, both are 1970 graduates of The Dalles High School and 1974 graduates of Oregon State University in business.
"I grew up on the cherry farm and bought part of the farm from my dad," Dan said. "I continued farming after I graduated from college. While I was still young and raising a family, I bought an orchard up in Cove. We stayed here, but I farmed it remotely. After I sold that, I came back down here and took over the leases my dad had had."
Kay handles the office end of the business, including payroll, payables and spray records.
As a grower member of Northwest Cherry Growers, she is also working on getting the Ericksen orchards certified through the Global Gap program, which certifies that fruit has been grown and handled with meticulous record-keeping on spray, hygiene and other topics. The process also requires an outside inspection by certifiers during cherry season, she explained.
"Not all of the growers will be certified this year, but my intention is that we will be," Kay said.
Toward that end, she is working right now to put together three months' worth of very specific records so that they can be ready for the inspection.
The Ericksen orchards focus on early market varieties like Bings and Chelans.
In addition to Dan's fulltime job as an orchardist, the self-professed "land use junkie" also accepted a position as a governor's appointee on the Columbia River Gorge Commission in 2013. Prior to that, he served for 14½ years on the Wasco County Court, then Wasco County Board of Commissioners before stepping down at the end of 2010. During that time, he served as Wasco County Judge for eight years.
Ericksen also serves on the boards of Oregon Cherry Growers and the Columbia Gorge Discovery Center.
"Organizations keep me pretty busy, especially with some of the issues coming up with the gorge commission," he said.
When not working, the Ericksens enjoy spending time with their two daughters and four granddaughters. Both daughters and their families are nearby. Sarah, the eldest, owns Knot Another Hat in Hood River. Jennifer is director of the OCDC in Wasco and Hood River counties.
Kay enjoys scrapbooking in what free time she has outside the orchard, as well as babysitting the grandchildren.
Dan promised himself he would spend more time on the golf course now that he is no longer in county government.
"We both love to travel," Kay added.
The Ericksens will be officially crowned at the Columbia Bank Lip Sync Contest. Also at the contest, the winners of the Little Miss Royal Ann and Little Mr. Royal Andy contest will be announced.