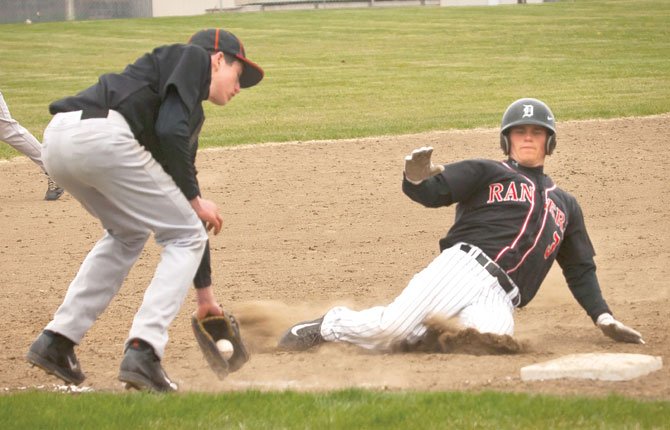 Coach C.S. Little could not remember the last time a Dufur baseball team scored a two-game sweep over the Sherman Huskies.
Saturday, the No. 2-ranked Rangers pulled off an 11-4 comeback win in the opener, and completed the sweep with a 7-3 score in the nightcap.
In the opening game, Sherman ace Ben Holliday did everything in his power to will the Huskies to an upset win.
The senior southpaw held Dufur to six hits through the first six innings, but then ran into some trouble in the seventh with his team up 4-3.
Dufur sent 13 batters to the plate and scored seven runs on six hits.
Bryson Caldwell, Trever Tibbets and Bailey Keever had RBI singles, and Josh Keyser added an RBI groundout to make the score 7-4 with two outs.
With Nick Little on first base, Keever at second and Connor Uhalde at first, Cole Parke dug in against Husky reliever Kyle Fields.
On a 3-2 pitch, Parke rifled a grand slam to center field to empty the bases and give the Rangers a commanding 11-4 lead.
"By us coming back, it showed that we are a good team," Keever said. "When we get the bats going, we can put up a lot of runs. We got them going later than we wanted, but we pulled together and did what we needed to do to pull this win out."
Getting to that point appeared a long way away, as Sherman rebounded from a 3-1 deficit with three runs in the bottom of the fifth inning.
Maverick Winslow knotted the game at 3-apiece with a two-run triple to center field to bring in Max Martin and Wyatt Stutzman.
Winslow wound up scoring the lead run on an error by the Dufur shortstop.
Up by one run, Holliday allowed one hit in the top of the sixth, but then struck out Nick Little, induced a groundout by Keever and retired the side with a strikeout of Brandon Broeckel.
In the nightcap, the Rangers erased a 3-0 deficit with three in the first, one each in the second and fourth, and two more runs in the fifth to preserve a 7-3 win.
Staked to a 5-3 lead in the top of the fifth inning, Keyser was thrust into an extended relief role to try to keep the Huskies at bay.
The senior right-hander allowed one hit, walked a batter and struck out two more in his three scoreless frames to pick up the save.
Keyser retired the final six batters he faced, two by strikeout.
"He's been our closer and he has been money every time he gets in a game," said coach Little. "It was definitely a good job on his part to hold a good hitting team down for three innings. We certainly needed that."
In the two games, Sherman committed eight errors and the pitchers issued seven walks and hit three batters.
"W've got to just make those outs," said Sherman coach Joe Justesen. "We cannot give a very good team like Dufur extra outs. You've got to make those plays."
Even in defeat, Sherman (6-3-1 overall, 1-3-1 league) moves up to No. 2 in the rankings. Dufur (13-2, 5-0) moves down to No. 3.
Stutzman walked away disappointed, but still remains optimistic that his team will forge a solid run down the stretch.
"We actually came out with some intensity today against a good team," said the catcher. "We knew we could compete against the No. 2 team in the state and that was part of our motivation. In these games, we can also see what we did wrong, so when we come back to practice, we are going to be able to use all of these tools to build on our skills."
The Huskies travel to Lyle, Wash. for a 4 p.m. game tonight, while Dufur hosts Irrigon at 11 a.m. Saturday for a doubleheader.