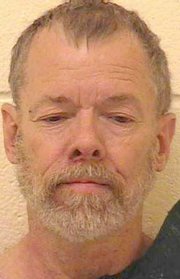 The 360 counts of sexual abuse against Robert Stephen White, 61, of The Dalles have been consolidated as 11 felony indictments for alleged crimes against children over a period of seven years.
On Friday afternoon, April 18, White was arraigned via video from the Northern Oregon Regional Correctional Facilities, where he is being held on $400,000 cash bail. Following his arrest the previous evening, his bail was initially set at $9 million due to the hundreds of counts filed to represent the alleged incidents involving multiple victims.
Wasco County Chief Deputy District Attorney Leslie Wolf argued before Judge John Olson Friday that White's bail should be set high enough to keep him behind bars. She said the defendant had self-inflicted wounds when Police Detective Jamie Carrico arrived at his home in the 1500 block of East 10th Street during the evening of April 17.
Wolf said White had to be tasered so his weapon could be confiscated and he had tried to refuse treatment after being transported to Mid-Columbia Medical Center.
She said the instability that White had exhibited made him a potential flight risk, especially because he had assets that could be leveraged for cash if he decided to run.
Because he has a good retirement from service in the Coast Guard and his wife works full-time, Wolf objected to the court appointing a lawyer to represent White at taxpayer cost.
She asked Olson to have him disclose his household income first, which the judge then directed him to do so the issue could be revisited Wednesday.
Lonnie Smith from the gorge firm of Morris Smith Starns and Sullivan was present at Friday's arraignment.
He argued against setting bail so high that White could not hope to pay it, which would violate the constitutional test of reasonability.
He told White that, even though his firm was not yet handling the case, he would visit the jail that afternoon to go over his rights as a defendant. He warned White not to talk to anyone about the case without the presence of an attorney.
If convicted, White faces a Measure 11 mandatory minimum sentence of 75 months in prison.
Wolf told Olson that White had been under the influence of amphetamines when he was taken to the hospital for treatment.
The judge said if White did post bail, he was to refrain from further use of intoxicants.
He is to remain on house arrest except when he needs to visit a doctor or an attorney. White is also is prohibited from contact with the victims or their family members if he is released.