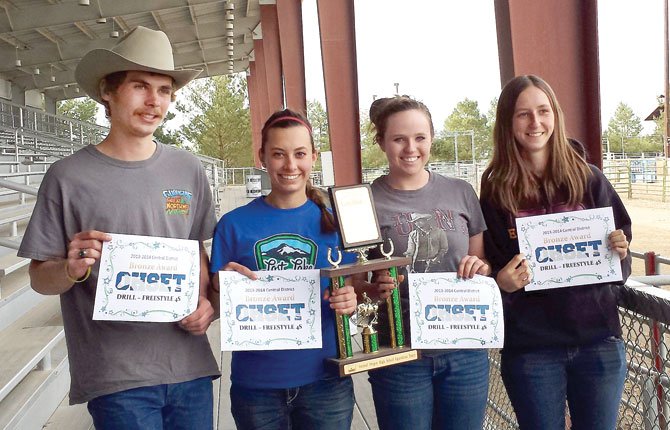 The Dalles equestrian team boasted plenty of promise at the start of the 2014 season.
This past weekend those expectations were fulfilled with several athletes punching state tickets at the Central District High School Equestrian Teams' final district meet at the Deschutes County Fair and Expo in the Bank of the Cascades Event Center in Redmond.

"I am so proud of all the hard work every team member has put in," said TD coach Marie Cordell. "I also look forward to state, this is the first time since I have been involved with the team that we have qualified in any event."
There were 15 teams competing with 132 riders in action, so the competition was fierce with state bids up for grabs.
The drill team of Jacob Richman, Hannah Simmons, Mackenzie Urness and Carsen Cordell notched third place to qualify for state competition.
Richman also made his move for state in keyhole, where he had an impressive mark of 9.92.
"He has been very fast all year on his horse Seal," coach Cordell said. "It was great to see him qualify."
Carsen Cordell is first alternate for state in Figure 8, as she had a final tally of 15.25.
The Canadian Flags team of Jacob and Thomas Richman, Mackenzie Urness and Carsen Cordell, were also tabbed as first alternates for state.
"The first year I was involved in OHSET we never even got a time, we got disqualified in every meet," the Eagle Indian coach said. "This last meet we got second, something I never thought I would see, and then to be first alternate for state is crazy."
OHSET state action takes place from May 15-18 in Redmond.