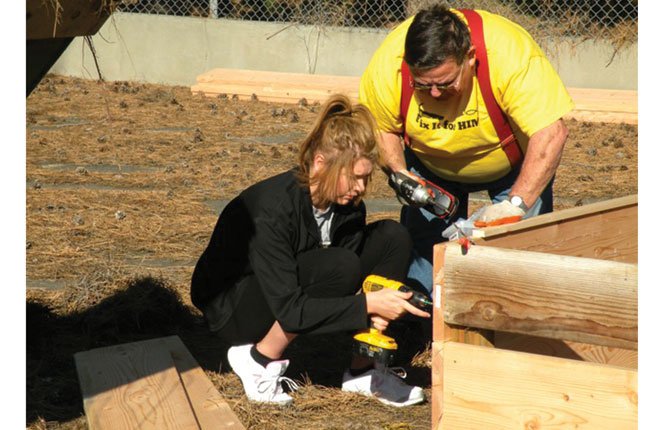 Wahtonka Community School, the newest addition to North Wasco County School District 21's educational institutions, is on schedule to open July 7.
Brian Goodwin, director of grants and special programs says he and his staff are on the lookout for more eligible students.
"They've been trickling in at a pretty steady pace over the last several weeks," he said, "but so many potential students in our area are also very transient, and I know there are a lot of people entering our community as well. Who we're also trying to reach out to right now are those that have left and come back and those that are new in town, and sometimes it's a bit hard to get the word out to them."
Wahtonka Community School caters to high school students who are considered "outside" the district system, in that they are not currently enrolled at a D21 institution.
As of last week, Goodwin said 31 students of the targeted 50 have been enrolled at the community school.
Some of these students, Goodwin says, may have attended one of the district schools in the past, but have since dropped out, or perhaps are even on the cusp of dropping out right now.
"In addition to those current openings, though," he said, "we also have another five positions open at any given time for students that are currently in the district, who will be selected by lottery. Right now, we've got a waiting list of 26 or 27 from that pool alone."
"We are making ourselves known as an option for students who have dropped out of high school, are in homeschooling, or are attending private school," he said. "And we basically have until opening day to reach our target of 50 out-of-district students, although even then we can always add a few more until after school officially starts."
However, Wahtonka Community School's "biggest selling point" for interested parents and students, Goodwin said, is its focus on project-based learning, which is "a totally different, community-oriented approach to education than anything else currently going on in the district.
"We're small enough to be flexible with students who have an interest and want to pursue it, and we have the time and resources to dedicate to furthering that interest as well as tying it in with academics in a way that benefits both the student and the community."
Goodwin cites the school's "urban farm" project that was recently worked on at the old Petersburg School tennis courts on April 12 as a prime example of this type of student and community involvement.
"We had about 25 staff, students and volunteers show up to assemble and install 16 huge raised beds," he said. "We worked all day filling them with soil and compost. It was a very large undertaking, and the kids were amazing— they worked super hard. Everything looks great and I'm really excited to get it all going."
Goodwin says he intends to use the new beds to facilitate a student-run fresh produce market operating out of the community school. In addition, he said he would certainly be open to people with experience in accounting and/or farm sales to come out to the school and mentor students as they go about conducting the project.
"We've had a number of people step forward from the community to offer their time to mentor our students," he said, "and we're looking for anybody who likes teens and who has a skill they think teens might want to learn— and I mean literally anything from art to rocket science."
Right now, Goodwin said, what the school is also really looking for are plants and tools to help get the urban garden project up and running.
"Plants are number one," he said. "We have a very large space and are in need of vegetable plants— tomatoes, cucumbers and pumpkins, anything. We're well taken care of in the seed department, but we'd really appreciate as many plant donations as we can get right now."
Other supplies such as power tools, hand tools, fiber arts materials, yarn, spinning wheels, drop spindles and knitting needles are all things Goodwin and his team are looking to acquire to furnish their student offerings.
"What we're all about," he said, "is linking students with members of the community and fostering authentic relationships that just usually aren't possible to achieve within the framework of the traditional system. As opposed to the theoretical model where we as teachers talk about a subject and then students are required to memorize the information and take a test, at the community school, students are actually going to learn with a specific purpose in mind. All of the learning that's going to happen at the school will be goal-oriented and geared to furthering student knowledge and skills towards a career or college— whatever they decide they want to pursue.
"The school will be a very safe and inspiring place for students to learn and grow, and it will be a great connector for all kinds of people in our community," Goodwin said.
Goodwin said next steps for him and fellow community school staffers include getting in touch with more potential students as well as continuing work on the urban garden project and setting up irrigation for the filled beds so the students will have fresh produce ready to be harvested on the first day of school.
"I'm really excited about the start of school," he said, "but I also know this is a huge undertaking, and I'd be lying if I said I wasn't a little nervous. But we've got a strong community and strong students, and I think it's going to go great."
For more information about the school, the enrollment process or how to donate needed supplies, contact Goodwin at 541- 288-6861.