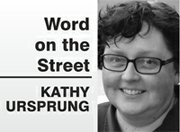 Spic and span: Downtown The Dalles will be fresh and ready when the Northwest Cherry Festival's many activities converge here this weekend.
The Dalles Main Street organized a community clean-up last week drew about 130 volunteers armed with brooms and bags who worked to get the area celebration-ready.
The group collected those 50-plus bags of leavings, contributing 300 volunteer hours in the process.
Satisfaction in a job well done wasn't their only reward. Volunteers each received a $10 gift certificate from Big Jim's in appreciation for their efforts.
A taste of the Amazon: In honor of Earth Day, Dutch Bros. Coffee rolled out its new Rainforest Alliance Certified Coffee, made using a proprietary blend of beans from certified farms.
These farms meet comprehensive environmental and social standards, protecting wildlife habitat and workers, according to a Dutch Bros. statement.
The company describes the three-bean blend of beans from Brazil, Colombia and El Salvador as designed to create "a symphony of flavor, acidity and body" using 100 percent Arabica beans.
Rainforest Alliance Certified farms have met the standards of the Sustainable Agriculture Network (SAN) a coalition of conservation organizations in Latin America.
Meet and greet: Urban Paper will host Coffee Connections this Monday, April 29, from 7:30 to 8:30 a.m. at 212 Washington St. It's a chance to mingle with other leaders in the community,
Meanwhile, the Government Affairs Committee will have a round table discussion this Thursday, April 24, at The Barbecue from 7 to 8 a.m.
Bitcoin accepted here: Forget about greenbacks, AniChe Cellars in Underwood is now accepting Bitcoin for purchases in their tasting room. "Bitcoin is as revolutionary as the Internet," said Todd Mera, co-owner of AniChe. "Currently, it is in its infancy and it is not straightforward how to buy or use bitcoins. However, there are large investments and services being created to make using Bitcoin easy and accessible to anyone."
Bitcoin is the most widely used crypto currency. Its peer-to-peer network is made up of tens of thousands of computers under a similar number of individual owners. There is no central bank authority. Instead, the people are that authority.