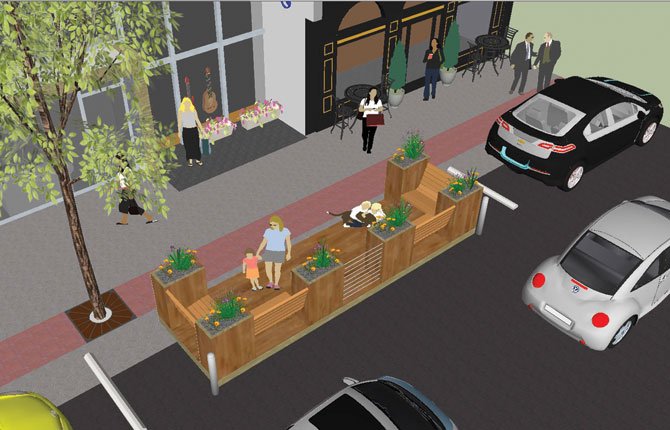 The Dalles Main Street organization is working to put together a new form of gathering place in downtown The Dalles and is inviting the public to "bring a piece of your living room to our downtown."
The Main Street design committee is raising money through the crowd-funding web service Indiegogo.com to bring a public "parklet" on Second Street in front of Columbia River Music and Courtney Insurance.
A "parklet" is a seasonal extension of the sidewalk into the public right-of-way that provides outdoor seating, flowers and landscaping, benches, bicycle racks and artwork in the heart of downtown.
"Downtown has been struggling massively for the quite a few years," said Greg Weast, owner of Columbia River Music. "It is refreshing to see new blood come to town to attempt to do something constructive to re-attract people to downtown.
"Maybe the parklet will be a success and it may not be, and if that's the case we'll take it down. But it's different, so let's try it."
"If it brings business to downtown, I'm for it," said Mike Courtney.
Parklets are used in many cities across the country with positive results, said Matthew Klebes, Main Street coordinator. "We look forward to using this project as a catalyst for more great things to come," he said. Creating a welcoming pedestrian environment is key to attracting more people to downtown.
Design Committee Chair Mary Hiser sees the parklet as a way to beautify downtown while helping support local businesses.
"Our goal is to build a vibrant community that brings people together, while encouraging foot traffic for downtown businesses," Hiser said.
Main Street has already $2,300 for the project and are hoping to raise a total of $5,000, which will be used to build a modular platform that includes deck supports, wood tiling, custom-made park benches and flower pots. Kase Construction has agreed to donate in-kind labor for the project. Funds raised beyond the initial goal will be saved for future parklet maintenance costs.
Main Street is also looking for a used piano to place in the center of the parklet.
"One of our goals is to create an innovative and beautiful public gathering space and adding a piano will allow folks to interact with downtown in a unique way," the projects indiegogo.com presentation states.
The structures of the parklet are not permanent. They are designed to be put up or taken down in 24 hours.
The Dalles Main Street is a nonprofit 501(c)(3) so contributions are tax-deductible. For more information on the project, visit the funding website at http://igg.me/at/thedallesmainstreetparklet or call Klebes at 541-370-2966.