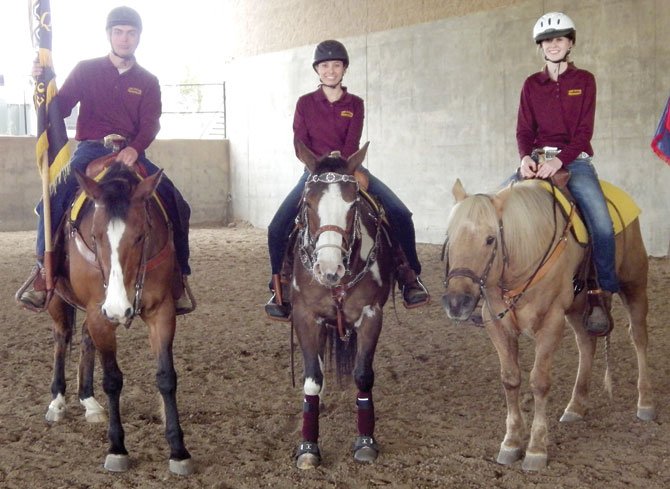 The Canadian Flags team of Jacob and Thomas Richman, Mackenzie Urness and Carsen Cordell, were also tabbed as first alternates for state.
Coach Cordell added that these cowboys and cowgirls can really see all the hard work paying off, as through Sunday, the athletes amassed best-ever times again.
Urness and Carsen Cordell had solid runs in poles, placing ninth 11th and also had their best Working Pairs performance ever getting eighth place in the final standings.
"Emma Treichel and Morgan Ramirez had great runs in barrels, Morgan did great in individual flags, hitting the can at both ends," the Eagle Indian coach said. "Sara Treichel had a great ride in trail, scoring higher than she ever has and she also tried her first course of Jumping."
With an expanded roster in place, coach Cordell said there were enough numbers this Sunday in Redmond to run three Team Penning squads.
Richman, Ramirez, senior Lauren Thalhofer and Simmons notched three pens and four cows for a count of 225.52 to finish in fourth place.
Emma Treichel, Thalhofer and Sara Treichel had a top weekend with a pen and a cow for a marker of 82.31.
Jacob Richman, Urness and Carsen Cordell as part of the A team tallied a pen, a cow and a score of 75.15.
"Team penning was a surprise, with the C team getting fourth this meet," coach Cordell said. "But, the best part was everyone got to go in three goes and have a blast doing it."
One feather in the cap of coach Cordell, Carsen, Thomas Richman and Thalhofer is the fact they improved in their output through their careers.
Carsen Cordell was a four-year athlete and captain, Thomas Richman put forth a respectable two years, and Thalhofer jumped up the ranks by leaps and bounds in her one year on the saddle.
"Carsen did run in with the American flag while two of OHSET's participates from Trinity sang the American anthem. It gave me chills; they are great singers," coach Cordell said. "Thomas Richman carried the team flag and Lauren, whose horse is deathly afraid of flags, rode in to represent."
The team now has 24 calendar days to iron out the final details in preparation for the state meet on May 15-18 at the Deschutes County Fair and Expo in the Bank of the Cascades Event Center in Redmond.