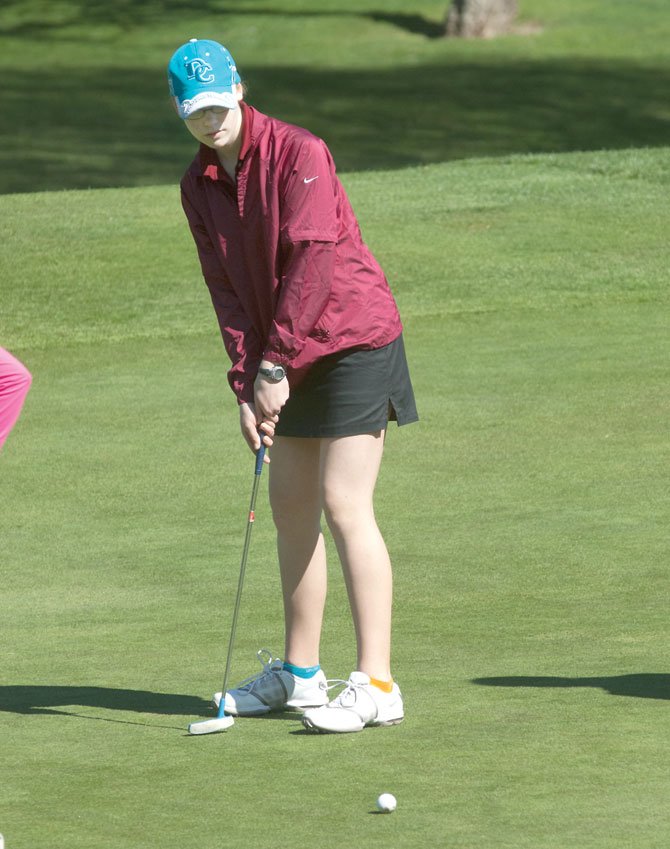 Playing on a par-68 course under threatening skies, The Dalles girl's golf team used a career-best 75 from freshman Iliana Telles to pace the squad for a 383 and second place at Prineville Country Club Wednesday for the Crook County Open.
"The ladies did fantastic, especially since they've never seen the course," said Tribe head coach Dan Telles. "Every hole on the front-nine was a journey, which was a learning experience for the back nine."
With Telles' personal-best marker, she was able to storm past the rest of the field and her closest competitor, Trinity Lutheran's Victoria Sample, who finished seven shots off the pace with a final tally of 82.
Crook County standout Maddie Kasberger carded an 83 to chalk up third place and Ridgeview's Raelyn Lambert ended her afternoon with a scorecard reading 88.
Rounding out the individual top-5 placers was Caitlin Dalton of Crook County, who managed a 91.
Paced by efforts from Kasberger and Dalton, Crook County High School secured a tournament title with a combined 378.
Right behind was The Dalles, who matched clubs for a season's best score of 383.
Ridgeview (411) placed third, Trinity Lutheran (484) reeled off a solid finish in fourth place and Redmond capped the team standings for fifth place with a 530.
Aside from Telles' heroics, former state qualifier, Elizabeth Peters notched her season-best score on the course with a 99.
Junior Olivia Starks picked up a personal best marker of 101. Jennifer Bonham came through for her team with a personal record tally of 108.
Another freshman, Rebecca Stiles, added her place in the personal record crowd, ending her day at 142.
Prineville Country Club provided a stiff challenge for the golfers with nine holes, so the teams had to play the nine holes twice for a par-68 with high elevation, winds and fast greens as the elements the Eagle Indians and the rest of the groups had to deal with.
"Problem solving had an additional factor, as the club and Prineville is at a 2,600-foot elevation, which means the air is thinner and the ball travels further," coach Telles added. "So, the players had to put that information into their problem solving, along with adjusting to a tailwind or into a headwind."
From the start of the spring campaign, the Tribe combined for a 483 on their home course in tournament play on March 18.
Fast forward to four events later, and the squad has shaved down 100 strokes, so the prevailing thought is that this quintet can keep the scores lower to get closer to the likes of Pendleton, Hermiston and Hood River.
"Again, the ladies did a fantastic job, as their scores showed," coach Telles said.
At noon Monday, the Tribe hit the links again for tournament action at Bend Country Club.