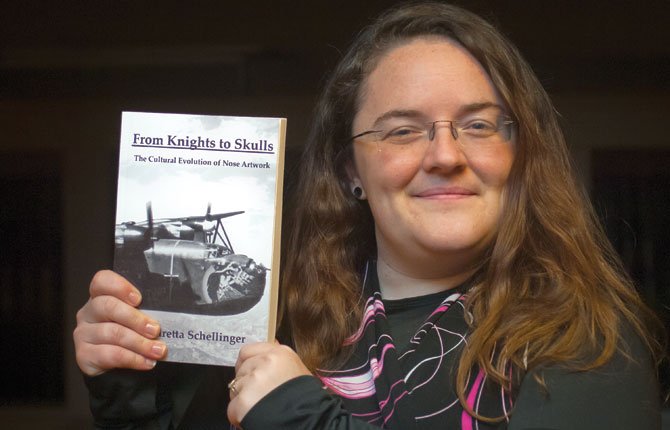 Andretta Schellinger set out to write a thesis on the nose art of military aircraft and the project that began as a labor of love evolved into a book.
"Regardless of what our troops do, they are people with desires and dreams that make them who they are," she said. "The art they put on their planes allows them to keep that individuality."
Her book is titled "From Knights to Skulls: The Cultural Evolution of Nose Artwork" is now available on Amazon. In 269 pages she explores how societal culture from four periods in the 20th century inspired nationalistic themes for visibility that transcended into emotional expressions and even opinions about the war.
"A lot of people don't think culture is important but sometimes it's a driving force," she said, referencing the religious beliefs of Islamic extremists that led to the Sept. 11, 2001, attacks on the east coast.
"I am a firm believer that if you don't learn from your past, you are doomed to re-create it."
Her original intent was to focus on what pilots and crews were doing to embellish planes on United States bases. But she decided, at the urging of a professor, to expand the dialogue into what was happening in countries with comparable advances in technology and many of the same societal norms.
Schellinger focused her research on World War I, World War II, Korean War and Vietnam, all conflicts that involved multiple nations. Within that framework, she selected France, Great Britain and the United States for further study out of an interest in preserving the stories of aging veterans.
"I really wanted to tell about what had gone on out there," she said.
She said it was interesting to learn that pilots came to believe that the designs on their planes aided in their invincibility and increased their chances of survival. The plane dubbed Superstitious Aloysius had a graphic of a good luck elf, complete with "wishbone, horseshoe, four-leaf clover, tied string (on his nose) and a rabbit's foot while crossing his fingers."
A crew's belief about survival was based, in part, on a true story about a plane that always made it home safely even though damaged. The American B-17G bomber named "Satan's Lady," and sporting artwork of a sultry female , logged in 112 missions during World War II despite coming under attack quite often.
Sometimes mission-specific planes were even given special names, such as a plane flown over the China/Burma/India region in World War II to locate aircraft that had been lost due to weather and geographical conditions. That plane was named "Somewhere I'll Find You" after a popular American song and movie starring Clark Gable and Lana Turner.
A study of military tradition is close to home for Schellinger, whose husband Jon was in the Army for 10 years and deployed to both Iraq and Kosovo. He is still working in the field of national defense while she secures the home front and fulfills duties as executive assistant for the director of Mid-Columbia Housing Authority.
"It feels really good to have finished this book and tell people that I am an author," she said.
Her family has a long lineage of service in the armed forces so honoring those who have endured combat is important to Schellinger, who serves as secretary for the Veteran Services Advisory Committee. Her commitment to military families is evidenced by the Lady of Loreto Award for Excellence that she received for the role of Family Readiness Group leader during the 209th Aviation Support Battalion, 24th Infantry Division's deployment to Iraq in 2006-07. The unit was based at Wheeler Army Airfield in Hawaii and Jon was one of the soldiers sent to the front lines.
"I really think that I helped a lot of people, especially the young spouses," said Schellinger of that recognition.
She started her thesis in the spring of 2008 and received her master's in diplomatic and military studies from Hawaii Pacific University in Honololu, Hawaii, in June 2012. Her bachelor's in history and sociology had been earned from Pacific University in Forest Grove.
While writing her paper, Schellinger worked at Joint POW/MIA Accounting Command, which is assigned to the U.S. Pacific Command. The task force is responsible for finding and recovering the remains of U.S. service personnel who never returned home from war.
Her next book is going to be a departure into the world of sci-fi fantasy, said Schellinger, who is not pushing herself on the project — yet. On her first endeavor, she set a word count goal and then found that by the time she hit that mark, she was "in the groove" and likely to keep going.
"Writing a book really takes a lot out of you," she said. "But I love writing, I love telling a story, be it fiction or non-fiction."