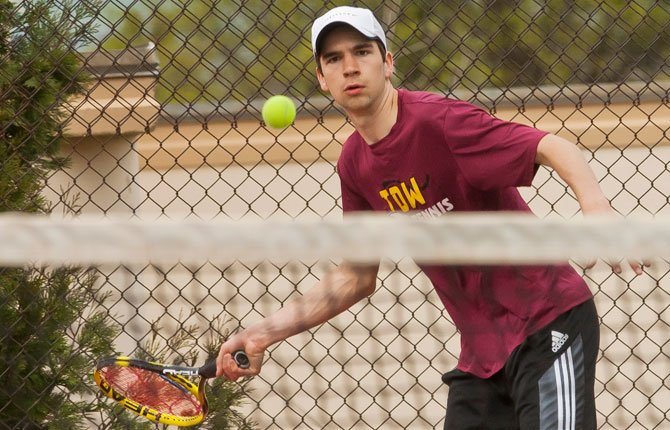 Hermiston remains the class of the 5A Special District I division along with Mountain View, Bend and Summit, and the Bulldogs showed it Wednesday in pulling off a 7-1 victory over The Dalles to complete a two-match season sweep in varsity play at Hermiston High School.
"Hermiston is a very good team with good athletes at every slot," said TD head coach Andrew Hughes. "We had a hard time with them the first time we played them (an 8-0 loss on April 9) and we had a hard time matching up with them this time."
Looking past the other seven losses, Hughes said the only athletic growth he saw from his players came off the racket of Cole McDowell, who came back from earlier loss (a three-setter) to Tyler Wadekamper.
In the No. 2 classification, McDowell came up clutch once again and turned the tide with a decisive win over Wadekamper.
It appeared that McDowell and Wadekamper would be thrust into a three-set marathon once again after an extended opening frame.
Things went to a first-set tiebreaker, with McDowell inching ahead in the extra session with a 7-1 tally to go up in the match 1-0.
McDowell had an easier time in the second set and he completed the two-set winner by dropping an impressive 6-2 marker for the Eagle Indians' only victory.
"Cole was masterful in his approach today," Hughes said. "He had great first and second serves. Another thing that I saw that was very encouraging was coming in to attack after he gets that first serve in. He also played really intelligent tennis."
Coming off his first win of the season, Griffin Martin could not continue that momentum, as he lost 6-3, 6-2 to Hermiston's No. 1 standout, Lucas Wyant.
In his No. 3 singles match, Christian Munoz re-entered the varsity fray, but could not muster up a win over Javier Gonzalez, who turned the tide for a 6-2, 6-2 decision.
William Coy took a short break from the doubles division to hit his marks at No. 4 singles versus A.J. Garcia and played a top match that went to three sets.
Coy won the opening set by a dominant 6-4 tally, but after the turnaround, Garcia restored his wits and battled back to a 6-0 rally to even the match at 1-apiece.
The Hermiston player then completed the win with a 10-5 score.
On the doubles side, Coy and Ethan Semlor lost 6-0, 6-0 to Vinny Whitesell and Jake Snell in their No. 1 match.
At No. 2, Daniel Santillan and Daniel Spurr went to work against Race Lathan and Skylar Grigg and the Bulldog tandem came away with a 6-4, 6-1 victory.
Jesus Barajas and Luis Diaz lost 6-2, 6-0 to Cameron Meeg and Aiden Pruett, and at No. 4, Cody McClintock and Caleb Turner played a spirited match versus Yannick Mueller and Valentino Whitesell in a close tussle.
Mueller and Whitesell garnered a 7-5 decision in the opening set and completed the two-set sweep with a 6-3 score.
Hughes complimented the play of McClintock and Turner, as the tandem continues to make an impression on the courts.
"Everywhere else, I was a little disappointed in some of our performances," Hughes continued. "I felt that we had already come in thinking that Hermiston was going to overpower us. The kids played as if they were waiting for the boom to lower."
The Dalles hosts Sherman at 4 p.m. Monday.