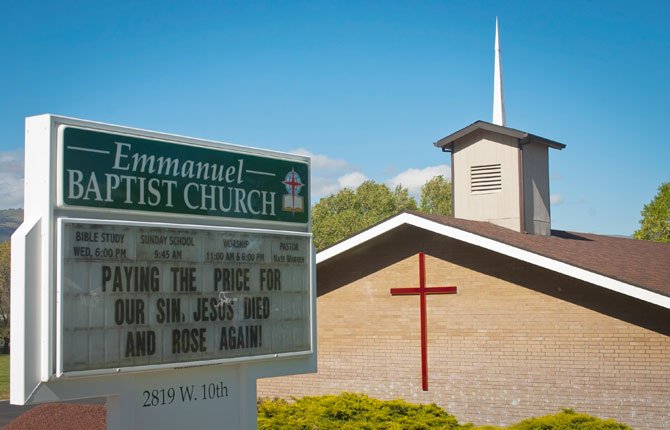 A 10-foot aluminum cross stolen off Emanuel Baptist Church last fall was soon found – serving as a memorial at the site of a double-fatal crash by Wishram.
The cross – now painted red to symbolize Christ's blood – was reinstalled on the church on Good Friday, just in time for Easter, said Pastor Nate Warren.
"I even told the story on [Easter] because the mystery of the cross, we lost the cross and now we got it back. The cross has been redeemed, which is a thing you'd never think about saying except in this situation," Warren said.
Late last October, about a month after the cross was reported stolen, a police officer came by the church, at 10th and Snipes streets, and asked Warren just how tall it was. He said 10 feet, which matched the measurements of a cross at milepost 89 on SR 14 in Washington, about two miles west of Wishram.
The Dalles Police Chief Jay Waterbury said he got a call one day from someone who told him, "You need to go over and look at milepost [89] on SR 14 for that cross, I think I saw it there."
The Dalles Police Sgt. Dan Nelson drove over and saw a smaller cross with flowers at its base, and also the huge aluminum cross, also with flowers at its base. He talked to the property owner, who wasn't aware of the makeshift memorial.
It was the site of a Sept. 18 head-on crash that killed Robert Hassing, Sr., 63, of Wishram and Shirley E. Merritt, 77, of White Salmon. Merritt had drifted off the shoulder of her lane, overcorrected, crossed the centerline and drove head-on into Hassing's vehicle. A passenger in Merritt's vehicle was injured.
Nelson went to the church, got the dimensions of the cross, confirming it was the one stolen from Emmanuel Baptist, and then returned with the police department's watershed patrol pickup to bring the cross back to the church.
Warren was grateful for the police department's help. He felt Nelson's work was "above and beyond the call of duty.
"It's funny because at the church we've done a couple things, we've done a law enforcement appreciation week, we've done some nice things for The Dalles police, the county sheriffs' office and soon we're going to do something for the state police."
Warren said the church believed that whoever stole the cross sold it for scrap metal. "We thought we'd never see it again."
Given there was a smaller cross and then the church's cross, Warren said, 'I don't know if this was for the other person or they wanted to make a really big tribute…They'd taken our cross and leaned it up against the barbed wire fence."
It so happens that a member of the church, Vince Vann, owns Jack's Auto Body. He'd made the original cross, and he agreed to restore it for the church. The cross came back with some scratches, so he got rid of them and also a circle pattern that had been in the cross originally. Then he painted it red.
"It actually looks nicer now than it originally did so we have some people saying, 'I'm glad they stole our cross,'" Warren said.
"It looks tremendously different," he said. The red color even looks different from different angles.
The cross was originally bolted to the brick wall behind it. "They had to wrestle to get that thing off," he said. "We've doubly and triply secured it this time, just so we don't have the same thing happen. And who would've thought it'd happen the first time."
He said the cross was "kind of selfishly stolen, but it was stolen for somebody else, to remember them. So we're even thinking of buying a little cross and finding where it was and putting it there for that person."
But he's learned those notions run afoul of Washington state regulations, which don't permit crosses as memorials. Warren learned it would cost $750 to install a state-made sign, which cannot contain religious symbols, but would say in memorial of the people who died.
He said the church would have to discuss its options for a sign.
The notion of the cross being returned isn't all that unusual in terms of stolen items, Waterbury said. Stolen items are returned "more often than you think."
"We find stolen property in search warrants, we stop people that have stolen property with them. Detectives do a lot of follow-up work on thefts and burglaries," he said.
He encouraged people to report stolen items. "If you have property stolen and you don't report it, I can guarantee that you won't get it back," he said.
He encouraged people to not only report stolen items, but to write down the serial numbers of valuables and have a description of it for police.
"It increases the chances of getting it returned a lot."