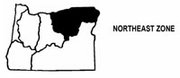 NORTHEAST ZONE VIEWING
Northeast Zone VIEWING
BAKER COUNTY
Spring is arriving in Baker County. Robins, red-wing blackbirds, and tukey vultures can be found in the valley.
Turkeys can be seen and heard throughout the county in the transitional zone between the forest and the valley. A good area to look is on the Elkhorn Wildlife Area. Be aware that turkey season is open through May 31.
Bighorn sheep can be seen in the Burnt River Canyon west of Durkee or along the Snake River Road south of Richland.
Bald and golden eagles can be seen along the Snake River. Take the Snake River Road between Richland and Huntington.
Elk are beginning to head for higher ground as things green up. They can still be found in smaller numbers on the wildlife area. 4/22/14.
GRANT COUNTY
A variety of bird species can be found throughout the John Day Valley. Canada geese can be found nesting at Goose Rock at the John Day Fossil Beds. Sandhill Cranes may be found nesting in Silvies Valley and Bear Valley.
Spring has arrived in Grant County. Elk and deer will be transitioning to their summer range in higher elevations over the next couple months. Elk and deer can still be found on the wildlife area along the Murderers Creek road. Pronghorn can be viewed in Logan and Bear Valley.
Bighorn sheep can be viewed along the South Fork of the John Day. 4/22/2014.
MORROW, GILLIAM and WHEELER COUNTIES
MORROW, GILLIAM and WHEELER COUNTIES
Spring is in full here in the Heppner District. Pine siskins can be seen occasionally at feeders in the area. Golden crowned kinglets are also showing up in the area. Ferruginous hawks are nesting and can be seen in the northern portion of the District. Red-tailed hawks, American kestrels and northern harriers can be seen nesting throughout the District.
Swainson's hawks can be seen setting up nests and in courtship displays in the northern portion of the District. Long-billed curlews can be seen in the grasslands and wheat stubble in the north end nesting. Western meadowlarks and horned larks can be seen throughout the grasslands and wheat fields. In areas with sagebrush loggerheaded shrieks can be found. Around the wetlands of the area red-winged, Brewer's and yellow-headed blackbirds, black necked stilts, American avocets, and the occasional marsh wren can be seen.
In the forest mountain bluebirds are showing up in numbers and are easy to spot. Turkeys are leaving their winter flocks and males are gobbling. Ruffed and blue grouse can be seen and heard drumming in the forest.
Throughout the spring, one can spot white-crowned sparrows, northern oriel, American goldfinch, eastern kingbird, and, if you are really lucky, cedar waxwings. Bald eagles can still be seen along the waterways of the District. Sharp-shinned hawks can be spotted along most riparian areas with good trees and shrubs.4/22/14.
UMATILLA COUNTY
Winter has broken and birds are starting to come out and be visible in all of the low and mid elevation habitats in the County. Ferruginous hawks started arriving in late February and have been forming pairs and working on their nests. They can be seen during the day soaring in loose pairs. Rough-legged hawks are still present and observable from public roads in open grassland areas and valleys in timbered forest areas. Bald eagles are still moving up and down the larger river systems looking for carrion to scavenge. Riparian areas are beehives of activity by migrating and resident birds.
Deer and elk are starting to orient to green-up areas of annual grass in the low and mid slope areas of the Blue Mountains. Large herds of elk will be intermingled in the trees at mid elevation areas. Deer will be more widespread with small groups present from near field edge to upper forest areas.
Turkeys are starting to move off their wintering areas and dispersing into the mid slope areas. Toms should start gobbling early in the morning as the weather improves. 2/18/14.
UNION COUNTY
Ladd Marsh Wildlife Area
Note: New this year: All visitors must have in their possession a free daily permit to access the wildlife area. Permits are available at several self-check-in stations at entry points and parking lots. Wildlife viewers and anglers also need a parking permit to park on the wildlife area. The $7 daily or $22 annual permit can be purchased online or at an ODFW office that sells licenses or at a license sales agent. Learn more about ODFW's Wildlife Area Parking Permit Program.
The Tule Lake Public Access Area and auto route are open to the public. Please see the note above regarding daily permits. The Glass Hill Unit is open to public entry for foot and horse traffic only.
Visitors are advised to carefully read posted signs and consult game bird regulations before entering the wildlife area. Dogs are not permitted within the Wildlife Area, on or off leash except during authorized hunting seasons. There are numerous quality viewing opportunities from county roads that pass through the area. Binoculars or a spotting scope will help as many animals are best viewed from a distance.
Many Canada geese are on nests and numerous species of duck can be seen on almost any open water. These include Mallard, Gadwall, Cinnamon Teal, Green-winged Teal, Ring-necked Duck, Lesser Scaup, Bufflehead, Redhead and Northern Shoveler. Eared Grebes and American Coots are also present.
Both Greater and Lesser Sandhill Cranes remain on the area. Many of the local Greaters are on nests and the last of the Lessers will likely move on soon. Please report any sandhill cranes wearing leg bands to the Ladd Marsh staff (541-963-4954). If possible, note the color and order of bands on each of the bird's legs (e.g., pink above white on left leg; silver above black on right leg). The specific combination and order can identify individual birds.
Western Meadowlarks are in full song. Northern Shrikes and American Tree Sparrows continue to been seen on the area along with white-crowned sparrows, Song Sparrows and Savannah Sparrows. Large numbers of American Robins have been observed in trees and shrubs near roads.
Raptors are common in the area and include Northern Harriers, Red-tailed Hawks, Rough-legged Hawks and Bald Eagles. A few Red-tails have begun nesting. Great Horned Owls are incubating eggs in at least five different nests on the area.
For more information on access rules for Ladd Marsh Wildlife Area, please consult the Oregon Game Bird Regulations or call the wildlife area (541) 963-4954. 4/8/14.
Wallowa County
While most mule deer and white-tailed deer are still on their winter ranges and thus quite visible, as spring progresses they will be moving back into more wooded areas. A good place to observe mule deer is along the Wallowa Lake highway between Joseph and the south end of Wallowa Lake. Drive slowly and watch along the moraine on the east side of the lake around dawn and dusk. Be careful to use the turnouts when stopping to watch these animals, as there will be other traffic on the road. White-tailed deer can be found throughout the Wallowa Valley on or near agricultural lands.
Many of the elk on the Zumwalt Prairie are moving back onto the prairie from the breaks of the canyons and are now more visible. Occasional large herds can be seen from the Zumwalt Road or on The Nature Conservancy's Zumwalt Prairie Preserve. Once you find a herd, use binoculars or a spotting scope to observe the animals.
This is a good time to find raptors in the Wallowa Valley. Particularly common are red-tailed hawks, with some rough-legged hawks also. Bald eagles are now present in large numbers as more migrants arrive in the area to join the locally wintering birds. Of particular interest this year is a gyrfalcon that has been wintering in the lower Prairie Creek area east of Enterprise.
Many waterfowl, particularly Canada geese, mallards, and American wigeon, are still wintering in the county. Additionally, we are beginning to see spring migrants moving back into the area on their way north. These birds can be seen flying into Wallowa Lake in the evenings from the county park at the north end of the lake.
Many geese can be seen feeding in agricultural fields around the county, and the dabbling ducks can be seen eating cattle feed on the feedlots and along the open water streams feeding on water plants. You might also check the forest and Zumwalt Prairie livestock ponds for species like goldeneyes and phalaropes.
Finally, our three species of forest grouse are in the midst of their breeding season. Ruffed grouse can be heard drumming in brushy areas, especially near riparian strips. Dusky grouse (the old name was blue grouse) are displaying in the uplands and can be found in grassy openings in the forest near steep canyon areas. And spruce grouse are performing their distinctive "wing clap" displays in densely forested areas on the Eagle Cap wilderness, especially along McCully Creek. 4/8/14.