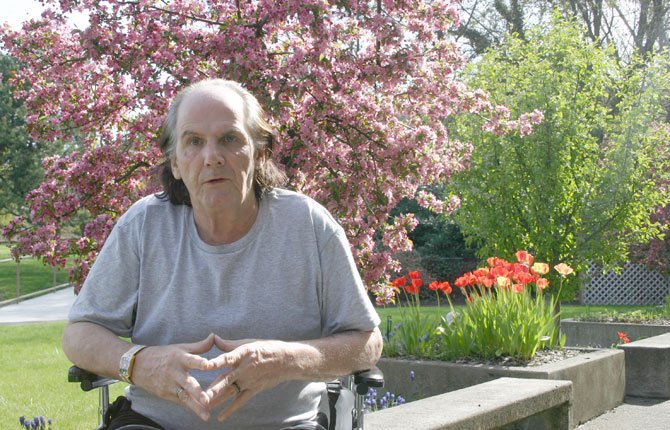 Resident of The Dalles Thomas Leech said he ventured from his home, braving the cold weather conditions that raged on the evening of March 9, to purchase a half gallon of milk at Dinty's Market on East 2nd Street. What he didn't know, he said, was the quick errand was almost going to end up costing him his life.
"It happened real quick," he said. "One second I was on foot in the crosswalk there, the next—bam—I was down. Just like that."
After purchasing the milk, an oncoming vehicle hit Leech as he was attempting to cross the icy street in front of Holstein's Coffee, running over his right foot, crushing bone and causing him to slip and fall to the ground in pain, uttering cries of "Help! Please help!" to anyone that might hear him.
Thankfully, someone did.
"The driver never stopped or took any time to see if I was alright, so I was lying in the middle of 3rd Street without being able to crawl or walk away to safety. I was yelling for help as loud as I could and a friend of mine who was in the market at the time actually heard me and understood I was in need of help."
"He ran into the lot and right into the street," Leech said, "picked me up and dragged me to the curb at the frozen side of the street, saving my life."
Although Leech referred to the man as a "friend" and said he recognized him as someone he'd once known as a Chronicle circulation staff member who he'd often seen delivering the paper to his home, he has since been unable to get in touch with him to thank him for his swift action in his time of need.
What happened next, Leech said, was an arduous process of waiting and hoping.
Emergency response came in the form of two officials from Mid-Columbia Fire and Rescue, who attended to Leech on-site and prepared him for the journey to Mid-Columbia Medical Center.
"It was so cold," Leech said. "And of course I was in a lot of pain, so I just thank God I was—and have been— so well taken care of."
While the accident occurred at about 7:45 in the evening, Leech said he didn't make it up to the hospital until about 9 o'clock at night due to the extreme weather conditions.
The clash with the unknown vehicle, Leech said, had "twisted the ball joint" on his foot, damaging a good number of lower leg bones and leaving behind a wound so deep it exposed a tendon.
The last injury was of particular concern to medical professionals due to its risk of infection.
Leech said his operation was conducted by Orthopaedic surgeon DPM Joshua Boone of Mid-Columbia Medical Center and that he spent his initial recovery on the fourth floor of the hospital before being moved to Columbia Basin Care Facility at 1015 Webber Street in The Dalles. Now that Leech has been at Columbia Basin well over a month, he said he feels as though he's really gotten to know many of the people that have become his constant caregivers, even making a few new friends in the process.
"Now, they've got me in occupational therapy and they're helping me slowly get my strength back," he said.
"Really, many of the people I see every day—they're very good people and have become good friends, and I just want to say thank you to every single one of them for all the amazing work they do. I feel very lucky."
A self-professed "television-buff," Leech says he spends his time outside of physical therapy watching shows or chatting with the staff.
"I've done a lot of things in my life," he said, "I started playing the guitar when I was 13 and hitchhiked through the Shasta Mountains when I was about 35... I'm not proud of all of the things I've done, but all I can say is right now, I'm feeling very grateful to be alive."
Ron Bell, Executive Director of Columbia Basin, told The Chronicle Leech is part of the care facility's short-term rehabilitation program, while the other population they serve is composed of long-term residents that require 24/7 care. Of the approximately 62 total residents, about 52 are considered long-term.
Leech optimistically said he hopes to be able to return home within the next month or so, and reiterated the need to thank those that he perceived had done him a great service.
"The man who saved me and got me out of harm's way, the men who took care of me while I was stuck on the ground, the doctor who operated on me up at the hospital, the nurses who've cared for me ever since and everyone who's helped me in any way through this entire mess—I just want to thank them, and I want them to know that they're being thanked because, Lord knows, they deserve it."