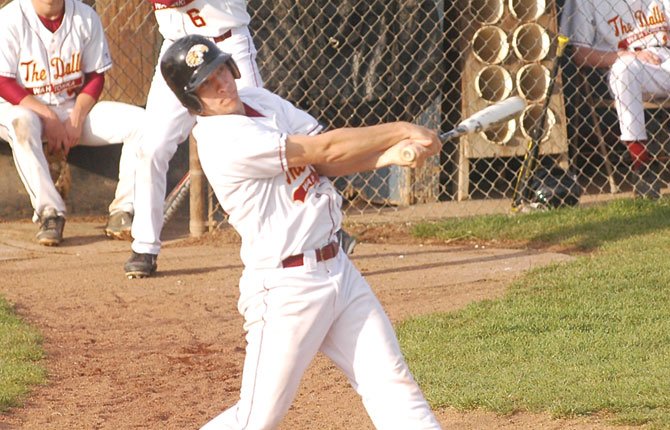 Facing a bit of a crossroads, The Dalles baseball team was dealing with the adversity of a three-game losing skid to start Columba River Conference play.
The No. 6-ranked Eagle Indians amassed 22 runs on 26 hits in scoring a two-game sweep by tallies of 15-1 and 7-6 over No. 5 Pendleton Saturday at Quinton Street Ballpark.
It was quite the outburst in the opening game, as every player in the lineup notched a hit, led by the 4 for 4 effort with three doubles from Clay Copper in a 15-1 win.
Copper also scored three runs and drove in four, and teammates Colin Noonan, Nolan McCall and Zachary Keimig rattled off three hits each. Keimig drove in a career-high five runs, McCall had two RBIs, and Noonan scored three times.
The Dalles scored three runs in the first inning, five in the second and put the mercy rule into effect with seven runs in the fourth.
Colton Walker tossed a complete-game, six-hitter with only one run earned. Walker lowered his earned run average to 2.26 and notched his fifth win.
In the nightcap, the Eagle Indians broke open a 4-4 tie with three runs in the bottom of the fourth inning, and held off a late charge for a 7-6 victory to complete the sweep.
Wilson nursed a 7-4 cushion in the fifth frame, and allowed two runs on three hits, both runs in the sixth, but retired the final three batters in the seventh to net his first save of the season.
Wilson added a hit, three RBIs, two walks and a stolen base, and McCall kicked in a hit, a run scored and two RBIs.
Bartells and Gordy Harris had a hit and two runs scored apiece, Payton Eaton went 1 for 3 with a run.
The Dalles (13-5 overall, 2-3 league) is in Pendleton (11-7, 3-2) at 4 p.m. tonight.